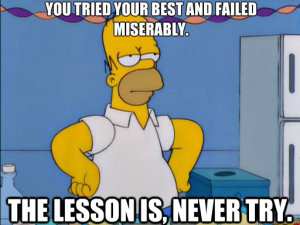 I showed up to the writing group early, nervous and anxious and excited for the group to critique my work. I couldn't wait for the other aspiring writers to "discover" my talent. I had felt driven to write for some time but hadn't ever shared my craft. I was certain that I was the next big thing. If only people would read my stuff they would fall in love with it and me and I'd be golden.
I chuckle now at the memory. I had contacted a writing professor who referred me to a real-life published author (whose name somehow escapes me). She invited me to join an intimate writing group at a small monthly fee.
(At the time I didn't know about free writing groups and networks and Superstars taught by real superstar published authors like Kevin freaking Anderson and James freaking Owen and many others).
I had presented the first three chapters of my work in progress, certain that they'd be begging for more. The group took the work home and returned with their critiques in hand. What came from the session was not what I expected.
Putting yourself out there for others to see can be scary especially if you care a lot about what others think. Unfortunately there are those that follow Homer Simpson's advice to never try.
I have a friend that used to write. She's got an incredible imagination and has developed some great plots. When more than one editor told her that her prose lacked structure and her characters needed deeper development she abandoned her efforts to get published.
I almost threw in the towel too.
As my writing group went around, one by one, dissecting my craft, I wanted to run away and hide. I regretted ever trying. It would have been far easier to remain a closet writer, telling myself that if only I were discovered, I'd be golden. Hiding behind mediocrity would have been much more comfortable than discovering that my perceptions were so very off base.
Good news is, I didn't quit. As difficult as it was to look in the mirror, my writing lacked skill. I focused on the group's advice and practiced. With time I started to see what they saw.
Later in my writing development I joined the Absolute Write Water Cooler. I couldn't wait to be allowed to submit my writing for critique. How it works is, you post a part of your craft for the other members to see and critique, then you wait for the comments.
At first, I assumed that every member had mad writing skills and would try to be helpful. After receiving conflicting advice and disagreeing criticisms I grew confused and my writing suffered because of it. Eventually I stopped trying to please everyone online and instead relied more on folks that I knew to be great writers.
In summary, here is what I've learned about feedback, critiques, and criticisms:
Receiving:
Have no fear; have no regrets.
Feedback is a gift.
Feedback can have a different value depending on who is giving it. If you take it in and it doesn't jive, it's okay to dismiss it. Take what's helpful and leave the rest.
If it's right, do it. Practice.
Don't quit. I believe that if I keep at it, success is inevitable.
Giving:
Only critique when invited to do so.
Be kind, helpful, and honest.
Be clear and specific. Examples can help.
Encourage, support, and cheer because if they keep at it, success is inevitable.