Contestant: I'll take Geek Controversies for $500, Alex.
Alex Trebek: A Smaug-sized question of cinematic taste to tongue-tie any dwarven fellowship of thirteen or less at one's local ComicCon.
Contestant: Was Peter Jackson's The Hobbit trilogy good?
Alex Trebek: Yes, well done. You are now in the lead.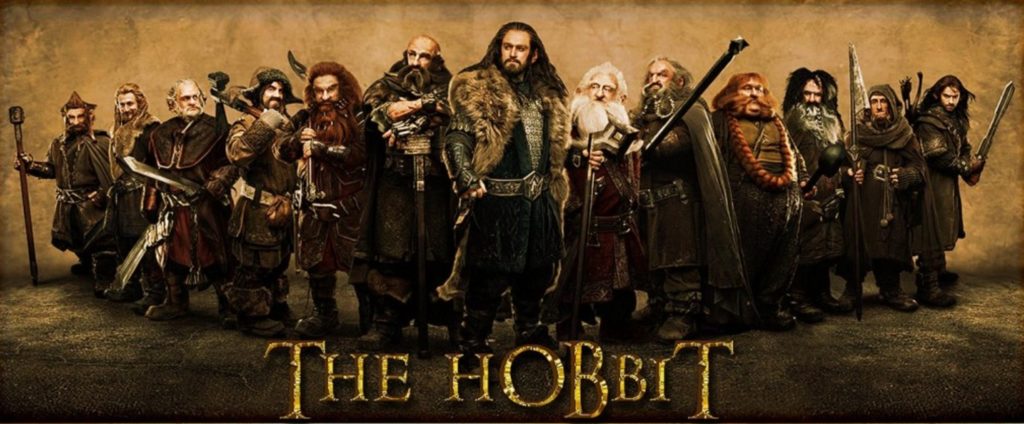 Was Peter Jackson's The Hobbit trilogy good? Now there's a hobbit-hole-burner for the ages, and the deeper you've burrowed into the gentle slope of Bungo's figurative Hill, the more fervent your opinion is likely to be. While it's less fashionable to impinge on the honor of Jackson's near-hallowed Lord of the Rings trilogy, a plurality of fans have been giving The Hobbit films the side-eye since the first installment premiered. For many, those side-eyes turned to full-fledged eye-rolls by the time the credits faded on the final film two years later.
I prefer to shift to a slightly different but closely related question: was Peter Jackson's The Hobbit trilogy a good adaptation? Note that this is different than asking if it's a faithful adaptation; as many have observed, a faithful adaption would have been… well, much shorter, it's safe to say. It seems clear to me that Jackson wasn't so much interested in faithfully adapting J.R.R. Tolkien's novel as reimagining it as an epic precursor to Lord of the Rings. I doubt there will be many dissenters to that. After all, Tolkien didn't have the later events clearly established in his mind when he wrote The Hobbit, so the two works aren't quite as much of the same piece as Jackson might have preferred.
Despite that, were The Hobbit films a good adaptation?
And now we get to the part where there will be more dissention. Deciding whether the films are good adaptations requires you to decide a few things about the original novel. If you have come to the conclusion that Tolkien's novel is an untouchable classic, one of the high water marks of English literature—nay, of all literature anywhere—then the films must by definition fall short, because even the most charitable reviewer must acknowledge that the films are merely good films, not the high water mark of cinema.
But I'm not sure the book is all that and a bag of lembas bread. (I bet you didn't know it came in bags.) Don't get me wrong; I love the book. I have very fond memories of it, going back to my Grade Five year when our teacher guided us through the story chapter by chapter. I've read it several times since, and enjoyed each successive re-read.
The thing is, like many books written a long time ago, I'm not sure this book is good by current (modern) standards. Which is certainly not a problem for the book itself, because it must be judged according to its context, and The Hobbit is revolutionary in context with everything that was going on contemporaneous with its release.
But Tolkien makes some rather strange literary choices. Some might go so far as to unkindly call them shortcuts.
Let's cast an analytic eye to the book's structure. Bilbo Baggins is the central figure, the eponymous character, the dominating point of view for most of the novel, to the point of eclipsing the other characters with him. You've got Gandalf (who disappears midway through and returns only for a cameo at the end), you've got Thorin Oakenshield, you've got Fili and Kili… and as for the rest of the company (there are 15 of them in total), they are hardly mentioned.
Peter Jackson rightly points out in the supplementary materials that while this can work in literary terms, it's impossible in filmic terms.
Not to sound too much the Jackson apologist, but he really had no choice but to flesh out the other dwarves as fully as he could, constrained by the fact that the dwarves really aren't important; they don't contribute much, and they don't exert influence on the plot. They seem to have been inserted by Tolkien to serve as a bit of poetry, a literary grace note.
Tolkien was a minimalist. If a character didn't significantly further the story, he all but erased them from the narrative. Gandalf is important, but the moment he's not, he's off to Mirkwood and out of sight; Thorin is a tragic figure, slouching toward his eventual demise (and redemption); and Fili and Kili are likewise destined for death. Sure, there's Elrond and Gollum and Beorn and Smaug. They serve their purpose and exeunt stage left.
The movie can't get away with this, so perhaps it overcorrects. Jackson gives us a bustling Hobbiton full of memorable characters. All thirteen dwarves are painted larger than life and given distinctive traits, running gags, and backstories. The small role of Radagast is writ large. Galadriel joins the fun in Rivendell, perhaps unnecessarily—and Saruman, too. The Goblin King wrests the spotlight from our heroes for an extended musical sequence (in fairness, this probably hews closely to Tolkien's intent). We get a resplendent and scene-stealing Thranduil. Oh look, there's Legolas! And now an all-new elven maiden named Tauriel who gets an awful lot of screen time. There's Azog and Bolg, footnotes in the book but major villains fighting for relevance and attention on the big screen. Once we get to Lake-town, whose denizens barely register on the page, we get a host of named characters who demand motivations and personalities on their own. Did I mention Sauron, glaring at us all the while? At last, Dain rides over the hill in undercooked (overcooked?) computer-generated glory.
The oddest of Tolkien's literary choices/shortcuts is the fact that the entire climactic battle, around which Jackson created a whole movie of its own, is played out in a few pages of exposition, told to Bilbo after he is knocked out in the opening frame. This is the best example of Tolkien getting away with something that no author today could get away with. Some would charitably call it a quirk.
My thesis is basically that Jackson didn't have a choice but to flesh this all out. I suppose he could have fleshed it out a bit less comprehensively, and delivered two films instead of three. Maybe Galadriel and Saruman stay on the sidelines. Maybe you don't bother to show Gandalf's investigation of Sauron. Maybe you resist the urge to bring back Legolas. Maybe you leave out Tauriel and just accept the fact that this movie has no women in it. Maybe Lake-town gets limited only to Bard. Perhaps the extra dwarves are reduced to window dressing.
I contend that several of these choices would have been very bad choices indeed, and every fan is going to pick and choose which of them were most and least essential. Essentially Jackson didn't pick and choose; he expanded everything, leaving on stone unturned. I don't think it's in Jackson's DNA to do things halfway, and I don't really blame him for that. (Granted, others do.)
In short, Jackson turned Tolkien's one-man play into a 50-man ensemble, thus entirely changing the character of the story. But my god, if The Hobbit had been filmed in the same manner it was written, it would almost certainly have been the most baffling film of the modern era.
So the movie is different than the book, a wildly different experience. Is it better? No. But if you're dead-set on adapting a strange, nigh unadaptable story like The Hobbit, you could do a lot worse. Peter Jackson didn't give us great movies, not by any stretch of the imagination, but he gave us serviceable ones that at least hold together and stay consistent with his previous work.
And if you can't have greatness, consistency is a pretty good consolation prize.