A guest post by Jeff Campbell.
Snap quiz: What bit of non-fiction writing inspires both fear and joy in practitioners of the fictional arts?
Book reviews.
Full disclosure: Writing book reviews takes a special kind of boldness, a strain of courage I no longer possess myself. I blame Batman. Back when I was a pre-schooler Batman ('66) was my favorite television show. It had everything: a Batmobile, Robin, Batman, what else could you want, right? In those long ago days of polyester and groovy-ness people couldn't just watch their favorite shows. You had to wait for your show to 'come on'. Yet love knows no limits, so after years of waiting and at the grand old age of twelve, I was thrilled when my mother told me Batman ('66) was returning to the airwaves. When the bat-time arrived, I tuned to the bat-channel and watched my favorite show.
I mentioned love has no limits but I should've also mentioned how it mucks up your judgment. Tragically, something had changed during those off-air years. Like many pre-schoolers, I had lacked a sense of 'camp', a peculiar brand of humor from which the producers of Batman('66) had drunk deeply. In a state of horrible youngness, I had not understood that Batman was meant to be funny. Kneeling in a rainy alley, looking over the lifeless corpses of my favorite show, I vowed never to write book reviews.  Boldness, a necessary tool for any book reviewer, had been torn from me.
But that's me, not you. You read books. You have opinions. Why not combine these interests? Why not indeed! But beware, bold purveyor of literature, for there are traps into which the unwary oft fall. How clever of you to have found this article! Although I myself do not write book reviews, I am willing to offer advice unbiased by practical experience. As a reader and fan of book reviews, I have seen things that tarnish the genre. This being the internet, allow me to present them in a useful and familiar form: 8 tips for book reviewers (you won't believe #7!).
#1: Be yourself…  I read a lot of reviews where the writer isn't content to be a mere book reviewer, instead wishing to be acknowledged as a God of Literature! Judgment, swift, terrible, unquestionable, flows from their pens as the divide supplicant books into piles of classics or garbage. I'm not saying don't be bold, I'm just saying that not everyone will always agree with you. That doesn't make their opinions wrong or worthy or attack.
#2: …unless you are really snide, then be someone nicer. All reviewers will write reviews for a books they loathe. It's part of the job.  You rarely read reviews where praise upon praise is heaped on a book but many reviews read like an extended and continuous curb-stomping.  It's perfectly fine to write a negative review, just be honest. Some books deserves scorn but if you're writing to see how many cheap shots you can fit in each paragraph, well, it's no more interesting than fawning praise.
#3: Be a reviewer, not a teacher. Look, I get it – you belong to a writing group or went to a really great class. Good for you! Remember though, it's neither helpful nor interesting to explain how a writer should have written a published book. That moment is gone.
#4: Batman. Just a word to the wise: Your opinions will change over time. Be bold and fearless but, yeah, if you can avoid making your future self cringe when they dust off that review and read it again, that would great.
#5: Have an opinion. There's this one reviewer I keep coming back to because (a) he's amazing and (b) he drives me nuts. He's insanely well-read, fantastically organized and focused like a laser. His reviews are full of interesting anecdotes and trivia and – here's the horrible part – he will not commit to liking or disliking anything. A book review needs an opinion!
#6: Your word count should match your opinion.  Hey, I don't like the four stars out of five rating system either but some reviewers fall into the unfortunate pitfall of writing reviews starting with 'I loved this book but …' and spending the rest of their word count on that one thing they hated. Naturally, readers believe the reviewer didn't like the book. Reviewer gets snippy, he loved the book! He said so, with four words in a thousand word review.
#7:  Pick the books you review. I once read a national newspaper review of a seventh book in a series by a reviewer who had not read any of the first six books. She didn't like it, found it hard to get into, too many characters. Do not be this person.
#8: Anthologies. When reading a multi-author short story collection, it is not necessary to say you liked some stories better than others. How could it be otherwise? As a reviewer, your task is to evaluate the book as a whole. Does it deserve to sit on your shelf or not?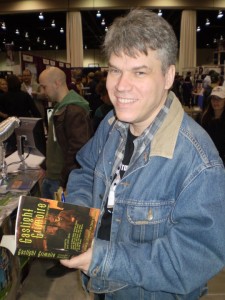 J.R. Campbell is an anthologist and writer living in Calgary. If you want to review some of his stuff, go for it. He's not afraid. His latest anthology is Professor Challenger: New Worlds, Lost Places, co-edited with his friend Charles Prepolec. Take your best shot. If you look around, maybe you can find some of their Gaslight Sherlock Holmes anthologies (Gaslight Grimoire: Fantastic Tales of Sherlock Holmes; and Gaslight Grotesque: Nightmare Tales of Sherlock Holmes) too. Take a look. Write a review. Tear him a new one. He may lack boldness but he's no fraidy-cat. Take your best shot.