Every writer has been there. Your plot is humming along. Your protagonist is sidestepping or hurtling every obstacle you throw at them, and they are well on their way to the climactic, final showdown. Suddenly, BAM! You find them squarely in a situation that you can't see your way out of. You've written yourself into a corner.
It's honestly one of the worst feelings in writing. That awful, "Oh no, how much am I going to have to change to make this work?" feeling of time and effort wasted. It sucks. But take a moment and collect yourself. We're here to help.
FIrst, take comfort in the fact that every writer has (or will have) experienced this feeling. Those who prefer the "pantsing" style will generally feel the pain far more and probably have developed thick calluses to it, but even the most ardent outliner will have a logical hiccup in their plan every now and then and find themselves having to fight their way back out of it.
There are varying ways to tackle the problem. Which one to apply depends entirely on two factors: how systemic the damage is and the level of the writer's improvisational skills.
But before I go into specifics, there is one rule you must obey above all when trying to correct the problem of having written yourself into a corner: Use this as an opportunity to make the story better. 
I don't mean better in the sense of "I had written myself into a corner and now I've fixed it." Go beyond just fixing the problem. Use the fix to illuminate your characters more, or to reveal richer details of your worldbuilding, or to make your plot flow more elegantly. Seeing this as an opportunity serves more purpose than simply resulting in a better story than you had before. It also helps you avoid the psychic toll of feeling as though you've wasted a bunch of your time writing into a dead-end. Pull this off, and you'll be happy you screwed up, because the end result will be that much better.
The first thing you have to do is analyze the problem and the context surrounding it. Are you happy with the book up until this point? Or has the story become more like a beater car, struggling more and more to make headway as it gradually falls apart,  with this dead-end being the final straw?
If things had been just fine up until the dead-end, then you probably don't have to do all that much to fix it and probably aren't even reading this for advice. Backtrack as far as needed and make a few changes to foreshadow a solution, or change the scenario entirely into something that works.
But sometimes a dead-end is merely a symptom of a larger problem. You can almost think of it as your subconscious's way of forcing you to really look and see the larger issues of the story. I've run into this before where two hundred pages into a book, I realized that my protagonist's actions didn't line up at all with his personality. As Dave Heyman discussed a couple of days ago, I had to tear the story down to the studs and basically start over with a premise and some characters.
Hopefully your problem won't require such drastic measures. Is your dead-end more character-focused but not something you can easily rewrite? Luckily for you, people are very complex creatures, full of flaws and contradictions. Think about a real person you know well. I'm guessing that most of their personality will angle in a certain direction, but that you'll have noticed that they have a few weird tics as well that don't seem to jibe with the rest. This sort of thing is a great way to add richness and complexity to your characters. As long as you foreshadow a character behavior a couple of times in advance, you shouldn't have any trouble tweaking the character enough to allow for the behavior while not breaking them.
If your dead-end is more centered around logistics or plot mechanics, now's your chance to showcase the world your character inhabits. Especially if its a science fiction or fantasy story, there are any number of ways to add a cool worldbuilding wrinkle that will enable your character to progress. Just make sure that you backtrack and insert that wrinkle (or hints of it) liberally throughout the early portion of your story, to avoid a deus ex machina situation.
If you're REALLY lucky, you can find yourself with what I like to call the Sublime Solution. This is where those of us who practice the pantsing style of writing really come into our own. Consider: are there any other loose threads of your story dangling out there, things you put in because they just seemed really cool and now you don't know what to do with them, so you're considering marking them as darlings to be killed? Well, not so fast. Because maybe, just maybe, you can find a way to tie one or more of those loose threads into a rope to hoist your character free of their dead end. If you can pull this off, it's one of the best feelings in writing. I had a situation like that arise while working on Ungrateful God, picking up a thread that had been dangling since early in Unwilling Souls and, well… saying any more would be telling. 🙂
In summary, finding yourself written into a corner is both quite common and no reason to panic. Indeed, if you look at it as an opportunity to strengthen your story the annoyance factor … diminishes. Saying it goes away would be a lie, because it's annoying every single time. But with experience it gets easier to see it for the backhanded gift that it is.
Because it's always better for you to find and fix the problem before a reader does.
About the Author: Gregory D. Little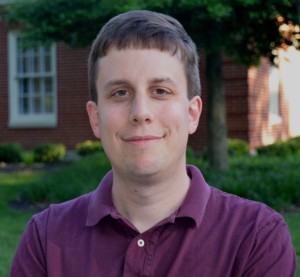 Rocket scientist by day, fantasy and science fiction author by night, Gregory D. Little began his writing career in high school when he and his friend wrote Star Wars fanfic before it was cool, passing a notebook around between (sometimes during) classes. His first novel, Unwilling Souls, is available now from ebook retailers and trade paperback through Amazon.com. His short fiction can be found in The Colored Lens, A Game of Horns: A Red Unicorn Anthology, and the upcoming Dragon Writers Anthology. He lives in Virginia with his wife and their yellow lab.
You can reach him at his website (www.gregorydlittle.com), his Twitter handle (@litgreg) or at his Author Page on Facebook.