When Words Collide is one of my favorite events. It's a dynamic, cross genre (science fiction, fantasy, romance, crime, literary, young adult, horror, urban fantasy, horrors and more), readers and writers festival. There is a variety of panels ranging from homicide, criminal psychology, taxes, play writing, transhumanism, writing dirty scenes, adapting the novel to script, indie versus traditional publishing to name a few. Coffee clutches along with readings and key note addresses provide great opportunities to hear your favorite authors. Previous years have seen guests such as Patricia Briggs (fantasy and urban fantasy), Michael Cassutt (TV/Film Scriptwriter and Sci Fi), Barbara Fradkin (Mystery), David B. Coe/D.B. Jackson (Fantasy, historical fantasy), Adrienne Kerr (Editor Penguin Canada), Kevin J. Anderson (Science Fiction), Anthony Bidulka (Mystery) and Rachel Caine (Cross-genre). I spoke with festival Chair, Randy McCharles about the event.
WWC is billed as a festival for readers and writers, not a conference. Why is this?
Writers conferences provide content for writers, usually those still learning the basics of the business. More established authors as well as editors and agents are the speakers, and 100% of the content is structured to help new writers enter the game. Readers festivals are mostly opportunities for readers to purchase books and have them signed by the authors, as well as listen to a number of authors read and perhaps speak on discussion panels. When Words Collide is relatively unique in that it addresses both these demographics and provides content for more advanced writers as well. One of the most enjoyable things over all three years was meeting new and interesting people, many of whom I continue to associate with throughout the year. The festival is, after all, a social event where readers and writers gather to meet like-minded people and discuss their interests.
Why a readers and writers conference?What will readers get from it?
When we started When Words Collide, we had no idea who would be interested in attending, but desired to be as inclusive as possible. As it turned out. Everyone was interested. For the first 3 years we collected registration demographics, which indicate that 50% of attendees classify themselves as readers. When we put together each year's program, we work to include quality content for beginning writers, established writers, and for readers. Some of the reader content includes readings by festival guests and attending authors, an autograph session, a merchants area for popular and hard to find books, and nonstop panels discussions by authors and avid readers on topics of interest to readers. Many readers are also interested in the writing process and attend presentations and discussion geared for writers, especially if authors they enjoy are speaking.
Who are the guest speakers for 2014?
Our editor guest is Mark Leslie, Director of Self-Publishing & Author Relations at Kobo Canada. Kobo is a major player in Canada's publishing community and Mark has vast expertise in the area of how to be published both traditionally and through self-publishing. We also have four big name authors. Diana Gabaldon is an award-winning author of Historical Fiction whose Outlander series is currently being made into a TV series. Jacqueline Guest is an international award-winner of Young Adult and Historical Fiction. D. J. McIntosh is the author of the internationally bestselling Mesopotamian Trilogy mystery. Brandon Sanderson is a bestselling author of Epic Fantasy, for his own work as well as the final three books of Robert Jordan's Wheel of Time series.
Tell us about the pre-festival workshops you've added this year.
We have several workshops ranging from 3 hours to 1 day. The workshops offer a deeper look at the subject matter by masters in their fields and are a great compliment to the more relaxed, shorter events during the festival. More information can be found online.
Adrienne Kerr (Penguin Canada) is returning for her 3rd year and will teach 2 1-day workshops on manuscript critiques.
Mark Leslie (Kobo Canada) is offering 2 half-day presentations: one on how authors can promote themselves and the other is on the pros and cons of traditional and indie publishing.
D. J. McIntosh has a workshop on how to get published based on her own overnight sensation experience. Jacqueline Guest is also teaching a workshop on producing and promoting your book.
Jack Whyte is returning to conduct the popular SIWC (Surrey International Writers Conference) master class workshop, Manuscript Strengths & Weaknesses.
Alberta Romance Writers Association has a workshop: Monochrome or Tapestry – Engineering your stories for texture and depth.
Brandon Sanderson had hoped to provide a pre-festival workshop, but his schedule won't permit, so he is giving a 2 hour presentation as part of the weekend festival instead.
What are some of the features which set WWC apart from other conferences?
We have brought together several events:
The Blue Pencil is a short sit down with and editor or author (who does a lot of editing) to receive some feedback on a piece of your manuscript. The Pitch Session is where you pitch your novel idea to agents and editors. Alberta is not overflowing with agents, so we often have authors stand in who can still give excellent feedback on your pitch and possibly refer you to appropriate agents. We do have several acquisition editors at WWC and they do request manuscripts.
The Live Action Slush has grown very popular in recent years. It may have started at SIWC (Surrey International Writers Conference) as Writer Idol, but we changed the name to be more reflective of what it actually is. Essentially, members of the audience submit anonymous first pages to be read and listened to by a panel of editors. Editors raise their hand when they would have stopped reading and rejected the manuscript. The editors then comment on why they stopped. This is a great experience, not just for those who submit pages, but for the entire audience as a great insight into how books are rejected or selected by publishers. Many readers also enjoy these session. It is so popular that WWC holds several sessions focused on different genres.
The 50 Minute Workshops are also very popular. In 2014 we will run more than 40 of them. Essentially an instructor gives a presentation or hands-on workshop to a smaller audience (less than 30 people). These may be on any topic of interest to readers or writers.
Our Friday Keynotes are also unique. Most conferences have sessions with 1 keynote speaker, as do we. But we also have a 2 hour session where all of the festival guests speak for 15-20 minutes on any subject. The range and mix of profoundness is my favorite part of the festival.
One of the most enjoyable things is meeting new and interesting people, many of whom I continue to associate with throughout the year. The festival is, after all, a social event where readers and writers gather to meet like-minded people and discuss their interests.
Where and when is WWC happening?
When Words Collide is always on the second week of August. This year it'll be held from August 8-10 at The Carriage House Inn in Calgary, Alberta.
How can you make all this happen with a registration fee of $60 at the door or $45 if people register before April 1st?
Attending 3 days at When Words Collide costs $40-$60 (depending on when memberships are purchased), making it a bargain for writers and affordable for readers. We limit invited speakers to 5 or 6, usually 1 editor and 4 or 5 authors working in a range of genres for whom we cover travel expenses and provide an honorarium. Last year we had 150 volunteer presenters (professionals, writers and readers). All organizers and staff are also volunteers some of whom work tirelessly on grant requests, which greatly subsidize our costs. The festival is very much a labor of love. We are always on the lookout for new presenters we may be unaware of, and encourage people to contact us. Unlike most events, we publish our schedule online as it is being developed so that attendees can see our progress throughout the year.
Is there anything else you'd like people to know?
If you are interested in reading or writing, be it literary or genre fiction, poetry, or even non-fiction, When Words Collide is the one event in Canada that you want to attend. We expect over 500 attendees in 2014 from across Canada and from the US. Each hour of the day has 10 different activities to choose from. You will meet authors, make new friends, and learn as much about literature in Canada as you like. You can even watch our schedule develop online through the year as invited guests and attending presenters confirm their activities. Links to information about previous years are also available.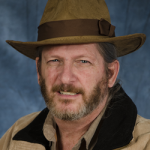 Randy McCharles is active in Calgary, Alberta's writing community with a focus on speculative fiction, usually of the dark and humorous variety. In 2009 he received Canada's most prestigious award for speculative fiction, the Aurora Award, for the novella Ringing in the Changes in Okotoks, Alberta which appeared in Tesseracts 12 (Edge Science Fiction and Fantasy Publishing) and was also reprinted in Year's Best Fantasy 9 (David Hartwell and Kathryn Kramer, ed). When not making up tall tales, Randy organizes literary events, including chairing the When Words Collide festival for Readers and Writers. Information on Randy's published works can be found on his website.