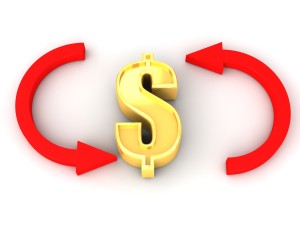 There are four critical provisions in your contact: the granting clause, the payment clause, the indemnification clause and the reversion clause. All four  provisions work together to set out what you've given up (granting and indemnification clauses), what you get in return (the payment clause) and when you get your stuff back (the reversion clause).  I'm only going to talk about the last one today but keep in mind that whether a reversion clause is unreasonable depends in large part on what you've given away and what you received for it.
What's the issue?
Your work has value. After all, that's why a publisher wants it. The value of the work is why you get paid. In return for letting the publisher print your work (and, hopefully from the publisher's prospective, earn more money off it than they pay you) you give the publisher an exclusive right to use your words anyway that falls into the grant of rights. Start to see the problem?
No?
Okay, let's look at it this way. I was recently shopping a story to some E-publishers. Before submitting, I checked out the contract terms as stated on the webpage.  Buried in the mumbo-jumbo about submission guidelines and other facts was this gem: "Length of grant of publishing rights: Life of copyright." What the heck?
A copyright lasts your life and another 70 years (in the US and UK. There some other countries which the copyright only lasts 50 years after your death, but it's still a darned long time.). If you signed a contract with this "reversion" clause your publisher OWNS YOUR STORY for your life, the life of your kids, and a good chunk of your grandchildren's life. The publisher can do whatever it wants with your story until it has no commercial value (i.e. is in the public domain) and, most likely, not pay you a penny more.
Now do you see the problem?
You might shake your head and say that "well, that was an e-publisher, the traditional houses aren't like that." Oh yes, they can be. If you let them.  Publishers of all kinds are trying to grab as many of your right as possible, keep them for as long as possible and return as few of them to you as possible. This doesn't make the publishers "evil." It just means they are better at looking out for their businesses interests than most writers are. After all, they make money off the stories other people write. Of course, the publisher wants to keep those words for as long as possible.
"But wait!" you say. "Isn't there something about my getting the rights back if the work goes out of print?"
Most contracts will have a provision that says something along those lines but the words really matter. Ambiguity is not your friend. Reversion clauses often have no definitions or meaningless ones.  I'll just highlight a few terms that MUST be clearly defined. If "out of print" isn't explicitly defined the publisher can, and likely will, win on the argument that because your book is available on a "print on demand" basis, whether or not any copies are actually sold, the work isn't "out of print" and the publisher still owns it.
What does "sales" mean? Can the publisher "sell" 1,000 free copies and meet the "Sales" threshold, if your contract even has one? Courts will read an undefined word consistent with its dictionary definition or its "plain meaning" as it is ordinarily used.  If "sales" isn't defined a court will likely rule that giving away free copies is a "sale" as the "plain meaning" of "sale" includes the "transfer of something to the ownership or use of somebody else." In other words, no money or anything else of value has to change hands for a "sale" to occur.  So, many of the new "reversion" clauses won't let you get your book back until either the copyright expires, or you pay an attorney a lot of money to argue about your contract and rights.  Either way, this is a lose-lose situation for the writer.
The "New Normal" of contracts is that if you aren't careful you may never get your book back, or worse, you might pay the publisher far more than it every paid you to get your story back.
Hand in glove with the "new" non-reversion clauses are "buy back" provisions. Under these provisions you can "early terminate" the contract for a fee. One of the more egregious of these clauses I've seen recently was part of a horrible contract where the writer gave up all rights to her story (which was supposed to be put in an anthology) for 7 years for no advance – just a small royalty percentage. The publisher was going to reprint the story as a stand alone arguably under the same payment terms – 7.5% of the price sold. In order to get the story back before the 7 years expired the writer had to pay the publisher a predetermined amount. Given the sales-to-date this meant the writer had to pay the publisher more than 18 times what she received from the sale to get her rights back.  Does this sound wrong to you? It should.  
Also keep in  mind that many established writers are making LOTS of money self-publishing or reselling their back list – books once in print with a publisher that have reverted to the writer. Publishers know this. For obvious reasons, publishers would prefer to keep the bulk of that money too. With a "life of copyright" grant the income from reissuing those older books would go to your publisher if the publisher even felt like reissuing your work.
What should you ask for in a reversion clause?
1. A reasonable term for the publisher to recoup its expenses and make a profit off you. This is going to vary from an e-book only, to paperback, to hardcover publishers. Hardcover publishers have more legitimate expenses in publishing your book than an e-book publisher does.  Generally, the more rights you give a publisher the shorter you want the contract's term to be. Three years is probably reasonable for an e-book only publisher. Seven to ten years may be reasonable for a print publisher.
2. Clear language as to when and how you get your rights back. Again, ambiguity is not your friend.
3. A definition of "out of print" that sets a sales threshold for e-book publishers,  and excludes e-books (for traditional publishers), and print on demand copies and audio books for all publishers.
4.  A definition of "sales" that excludes the transfer of your work for no monetary consideration and has a specific number threshold.
5. A renewal clause so the publisher can keep using your Work if it is selling and has to pay you a set amount (an additional royalty) for renewing the contract.
6. If there is a "buy-out" provision, a purchase price that takes into account the publisher's actual costs, potential lost profits and what it paid you. The reality is if your book is selling well with Publisher X you are unlikely to want your rights back. These provisions come into play when you disagree with what your publisher is doing with your work or the work simply isn't selling.
7. You don't want a lengthy notice provision. If you opt to take your rights back, you should get them almost immediately upon notice. This keeps the process from being drawn out and keeps a vengeful publisher from trashing your work – bad cover, bad press – while you wait to get it back.
8.  The term "Notice" needs to be defined. The Notice of your intent to take your rights back and the actual return of those rights should not be dependent on the publisher's actions. Let's say your reversion clause says you get your rights back 30 days after you notify the publisher: what happens if the publisher doesn't pick up that certified letter or respond to your email? You might be stuck. "Notice" may mean "actual notice" and you may have to show that the publisher actually received your letter or email. All ambiguity does here is open the door to litigation or an extortion attempt by your publisher who now wants you to buy back not just your rights but also all the copies of your book in the warehouse. If you think I'm exaggerating check out Doranna Durgin's  post on Writer Beware at http://accrispin.blogspot.com/2011/10/guest-blog-post-fitzhenry-and-whiteside.html
9. A provision that automatically reverts your rights if your publisher files bankruptcy, has an involuntary bankruptcy filed against it, has a receiver appointed or makes an assignment for the benefit of creditors. If any of these things happen your publisher has or is  likely going out of business. You  don't want to be caught up in lengthy and expensive litigation to reclaim your rights from a Bankruptcy Trustee or receiver. The likely result if you are pulled into the bankruptcy or receivership is that you will have to buy your story back to help pay off your publisher's creditors. Again, getting enmeshed in a legal fight is something you want to avoid happening.
What's the solution?
While a new writer won't often have the clout to get everything he should in a reversion clause educated writers will push the publishers to stop overreaching. You MUST know what your contract says and how it affects you. Consult with an Intellectual Property (IP) lawyer.  This is a very technical and niche area of the law. Your agent likely doesn't have the knowledge he needs to advise you. The  average family law or traffic lawyer does not have the knowledge to advise you. I've been practicing business law for nearly 20 years and I still check with an IP lawyer. Consult with a lawyer. Yes, we charge a lot. An IP lawyer may cost you $500 an hour or more. But, the alternative is potentially giving away thousands, if not millions of dollars, over your writing career. The expense of a lawyer is worth the investment.
But the most important solution –
Don't accept bad contracts.
Don't accept ambiguous contracts.
Don't accept "reversion" clauses that don't actually give you the rights back to your work.
Here's the secret – Shh – You don't need traditional publishers as much as they need you.  You can self-publish. Publishers need writers to give them content. See, the power has shifted. We can still get our stories to an audience without a publisher. The publisher can't operate without writers. Don't get me wrong. I want to be traditionally published. I understand the finances that drive Publishers (e- and traditional) to ask for the provisions they do.  But that doesn't mean I have to accept all proposed terms.
Sometimes walking away is the best thing you can do for yourself, your story and your career.
The bottom line?
Know when and how you get your rights back. If this isn't clear, hire an attorney to help you understand. If the contact still isn't clear or acceptable renegotiate it. If you can't get reasonable terms you may want to walk away.
Disclaimer:
The materials available at this website are for informational purposes only and not for the purpose of providing legal advice. You should contact your attorney to obtain advice with respect to any particular issue or problem. No attorney-client relationship has been created.  Legal information is not the same as legal advice — the application of law to an individual's specific circumstances. Although we go to great lengths to make sure our information is accurate and useful, we recommend you consult a lawyer if you want professional advice.