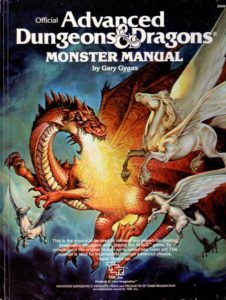 Back in the late 1970's, I played Advanced Dungeons and Dragons two or three nights a week. Wait, I should correct that. I worked at AD&D because I was always the Dungeon Master. I had to come up with new quests, places, characters, and even creatures. All of my players had access to copies of the hardcover books like the Monster Manual. The problem with that was even if a party had never seen a Bugbear before, they all magically knew how to defeat one and knew the ballpark of its statistics.
Eventually I had to come up with lots of unique dark creatures for my players to fight. I always enjoyed when I described something weird yet totally outside their experience. Their characters then had to react in a realistic manner, which elevated gameplay. Later on, I would use the concepts I developed when writing stories.
Dark creatures, like villains, need to have a method of sustenance – even if it's a supernatural method. They also need reasons for evolving, waste management, etc. Many times I kept creatures neutral, with a capability to be either a benefit or a burden, depending on how the characters interact with the unknown beast.
As an example, I had a rare creature called a dunnasae (pronounced "dunna-say"). They dwell in damp caverns at least one mile underground. At first glance, they appear to be thick oil slicks on the walls. They eat primarily silicon, and that's what they're doing on the wall. Dunnasae can be peeled off and saved in glass containers for up to one week, wherein they digest their way out of the bottle.
Dunnasae appear to be rather innocuous creatures, about a foot in diameter. They do not talk as far as anyone can tell. They move very slowly, and do not fight back if attacked, although they will do their best to eat any metallic weapons used against them. Fire kills them rather quickly – and it is always a good idea to have an idea of what their weaknesses are before bringing them into a story.
So, what good are stupid oily sheets that cling to walls, you may ask? They do have one interesting property – they live in multiple dimensions. If one comes in contact with a human, it will instantly merge with their tissue. They can swim rather quickly to any portion of the human. It will tend to sink to the soles of the feet, wherein it will feast on the dirt and sand the human walks on.
As I mentioned – it is a multidimensional beast. The main benefit of merging with a dunnasae is it can act as a living portable hole, storing any non-organic material up to five cubic meters. As long as the host allows the creature to eat (and having a small pouch of sand comes in real handy), it will respond to human thought and instantly appear at any portion of the body when directed. The beast can make any stored item emerge from anywhere the host wishes, like a sword "magically" erupting from one's hand or an eight-foot metal quarterstaff bursting from one's colon, if the the user wants to impress everyone around them.
As with all things, there must be a risk involved for having such a useful creature. The first one is in order to remove the dunnasae, you must will it to a part of your body and then proceed to burn that body part off. The second is that you must never put organic material into the dunnasae, as it will learn that you are organic and will try and absorb you. This event will drive it crazy and force your body parts to attack things around them (and each other). Organic extends to rope, leather, rations, etc. Wooden scabbards or sword hilts are also not allowed.
I've used these creatures in a couple of short stories. One of the darkest ones involved tricking a character into placing organic material inside their dunnasae's storage space. The rest of the story had the main character getting slowly digested from the inside out and having fits of uncontrolled random violent movements as she set off to get vengeance. It was a quirky tale and was published in a 'zine around 1983.
If you're a gamer and you write dark works, sometimes it's a fun idea to combine your talents from both fields. Just make sure your unique dark creatures are well-rounded and explained thoroughly before deploying them on the unsuspecting public.
---
Guy Anthony De Marco is a disabled US Navy veteran speculative fiction author; a Graphic Novel Bram Stoker Award® nominee; winner of the HWA Silver Hammer Award; a prolific short story and flash fiction crafter; a novelist; an invisible man with superhero powers; a game writer (Sojourner Tales modules, Interface Zero 2.0 core team, third-party D&D modules); and a coffee addict. One of these is false.
A writer since 1977, Guy is a member of the following organizations: SFWA, WWA, SFPA, IAMTW, ASCAP, RMFW, NCW, HWA. He hopes to collect the rest of the letters of the alphabet one day. Additional information can be found at 
Wikipedia
 and 
GuyAnthonyDeMarco.com
.