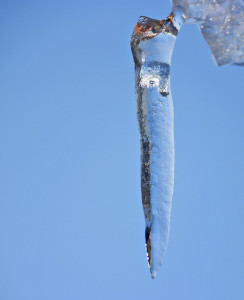 I grew up in Fairbanks, Alaska. We moved there when I was ten. And as much as I hated it at the time, I grew to love it more. One of the reasons was all the incredible stories that I can tell for having lived there for a decade.
My favorite and the one that most people find bizarre is the Hair Popsicle story which believable or not, I may still use in one of my stories.
I lived at twenty-two and a quarter mile Chena Hot Springs road. The only place this road ran was the fifty miles from Fairbanks to Chena Hot Springs. There was a road that t-boned it and cut over toward North Pole (an actual town and home of the Santa Claus house where you could have letters from Santa sent to children with a real North Pole postmark).  To get from where I lived to my high school was a twenty-five mile trip one way. The school bus was driven by a neighbor who lived a few miles further up the road at the end of the paved and populated part of Chena Hot Springs road. She would keep the bus at her place overnight, drive it the one way picking up kids and then not return it back out there until after school when she dropped us all off. There was a definite small town feel among all of us who lived in that fourteen mile stretch of Chena Hot Springs road.
Why all this background? To set the stage. The bus driver didn't just leave if you were running a few minutes late because the winter weather in Alaska, which was most of the school year, didn't really accommodate waiting on the road for the bus.  It was cold. And dark. In order to get us to school in time we were catching the bus at something like 6am. Truth be told, in the heart of winter, it was mostly dark twenty-four hours a day.  So, the bus driver would hit the end of my driveway and honk, wait for me to run up the drive which was almost a quarter mile long, and I'd catch the bus.
Life in Alaska is a little different from anywhere else I've lived, and I've lived in eleven states.  Alaska is unique.
More setting – stay with me. Because we lived in Alaska and Alaska gets cold, our school didn't officially close down until the temperatures hit sixty below zero. Mind you, back in the Portland area of Oregon, where I used to live, if it snowed two inches, everything shut down.  In Alaska, "home of the individual and other endangered species", school and everything else went on until it hit -60°F and forget how much snow there was because we would still have four feet on the ground in April. Also, keep in mind that freezing is at 32°F. Sixty below is a full ninety degrees colder than freezing. At -50°F it was optional to go to school and the parent's decision. I have been to school when it is optional.
This one winter, we had a long spell of cold that was in the -40°F range. This is where you can hardly breathe for the cold air hitting your lungs. I was running late that fateful morning and by the time I got out of the shower I had minutes to get dressed. I heard the bus honking as I was combing my long straight hair that was still almost dripping wet. I pulled on my boots, grabbed my coat and ran. No hat, no gloves. I didn't even do up my coat. I just ran because I couldn't miss the bus. Halfway down my long drive way, my hand came up and hit my hair.
You know how long hair, when wet, hangs in icicle like clumps? Yeah, that was my hair. And it had frozen in the few minutes it took to get halfway down my drive way. And frozen stuff that is hit, breaks.  Yep, I broke my hair. Cursing, I grabbed the frozen hair Popsicle from the snow and ran on.
Once on the bus, I was able to truly assess the situation. I was holding an icicle of hair about an inch in diameter at the widest part and about eight inches long. It had snapped off straight, right below my ear. As my hair thawed on the ride to school, I realized how bad it was. Do try to imagine it if you can. All day at school I got teased and then had to get a horrible shag haircut to minimize the damage done.
Needless to say, I was more careful in the future, and I got a cool (get it… cool… lol) story out of it.  Can't wait to hear more tales that are stranger than fiction.