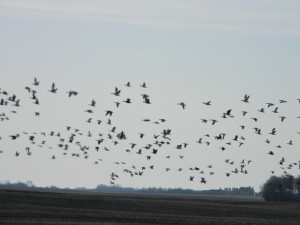 The spring migration is late this year but I only learned that because someone died.
A close friend's death pulled me from my concrete world, forcing me to travel across endless prairie, to see spring repaint winter's stark world with the tender greens waving away the north wind's last cold breaths. And in my journey to mourn, I see the spring migration – gathering energy to fly to thawing northern nesting grounds by fervently feeding on the last crop's stubble, not one stray seed left behind. A friend had died and with her, part of my heart died yet here was nature, hopeful, fervent, telling me the cycle must continue, that despite all that happens, life stops for no one.
This journey takes me back to the farmstead home where I grew up – right in the middle of the great spring migration. Flocks of Greater and Lesser Canada geese, cranes and Snow geese formed feathery swarms. Circling gracefully down to water, then like arrows shot into the sky they circle yet again searching for perfect feeding fields.
The choruses of honks and krooos carried by cool spring winds are a music once familiar, now alien, to my ears.  These choruses are the excitement of spring, the energy of rebirth and creativity and somehow, through my tears of grieving, I am stilled to peace.
A walk across stubble fields, still too wet for seeding, floods me with memories, once known in my youth but now seem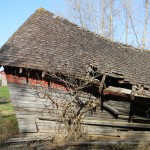 otherworldly. Who was that person who remembers where the trees once grew, where cattle grazed in pastures, where weeds were pulled from garden rows at a nickel a pail? Who is this person who now deigns to wear sandals through straw stubble, ankles scratched – a child of the city now – alien worlds converging, lifetimes past and present merging.
Walking along a windrow, a prairie chicken is spooked from the grass. My partner is now lost in his memories of times hunting before pesticides and farming diminished this delicacy. As we share the past I realize that few words can bring to life the images, the memories, the smells, the aching muscles, the laughter accompanying sliding down haystacks in winter … time has made  the once familiar foreign. The migration darkens the sky above us as birds swarm debating if this field will yield enough scattered grain. I feel the noisy migration sweep my old ghosts away for their focus is on today  – it is all that matters and all that ever will matter.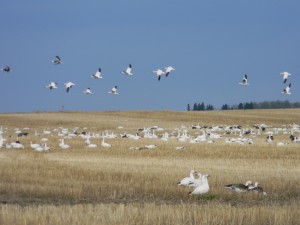 At 4 a.m., the winds change and I know, lying in the dark, protected from the diamond sky and sun's first yawning, that it is time – that this is the last night of honking and krooing wakefulness and that silence will ensue. I leap from my bed to watch the geese and cranes, their last grazing of  grain speckled stubble fields completed, rise to the skies, circling, a choir in flight, summoning all to follow, their v-shaped lines flapping arrows aimed at northern nesting grounds.
Then, the earth gasps at the timeless glory of the final migration before relaxing with a sigh. But, the silence I expect never comes.
Instead, I hear the almost quiet – the earth's soft belches and burps of spring moving to summer. Frogs croaking bass melody day and night, the percussion of duck calls, crows cawing oblivious to the frog's melody, the crescendo and decrescendo of wind whispering then whistling through budding trees – the new, softer melodies of insects crawling over warming ground, farmers preparing the land for seeding, hoes working gardens. The south wind, carrying the frenzied migration northward now blends these spring choruses to new compositions.
Ah yes, the rhythm, the balance of the earth, timeless beyond man – these things I now ponder. And I also wonder about the worlds I create as I now sit in my walled home, in my city of concrete and asphalt and unearthly noise. Do my characters wander through worlds which gasp, belch and burp? Are they  aware of the subtle things which affect their lives? Am I aware of these things? Maybe. Maybe not. But I now know that sometimes we and our characters need to take the time to breathe – to feel the change, to feel the sorrow and the timelessness of life.