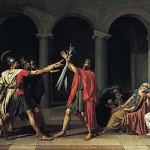 It happens to everyone; sometimes, life disappoints us. We can do our best to mitigate disappointment, and we can even achieve a great amount of success in that regard, but at some point, something's going to come up that wrecks our day.
Indeed, it appears to be a rather prevalent issue these days (the reasons for which are beyond the scope of this post, though I assure you, I do have an opinion on the topic), so much that people unquestioningly equate cynicism with realism. If you have any doubts about this, listen to a politician.
But this phenomenon extends beyond our day-to-day lives to the field of art, and in particular, of literature. In fantasy (the genre with which I am the most familiar), there has even sprung a new sub-genre dedicated to cynicism called "gritty fantasy," comprised of anti-heroes and more anti-heroes. Those who have helped popularize this sub-genre have done so by acclaiming its supposed authenticity of character motivation and general realism amidst a fantasy backdrop.
Some of the authors in this sub-genre are quite good and a few I buy the day their books come out. More often, though, especially on those wrecked days, I'll have to take a break from this kind of book and read something that I know will end happily ever after. Why? Because I have enough problems of my own, thank you very much, and it just isn't worth it to wallow in some character's misery. In a way, I think it's (somewhat unsurprisingly, given the nature of these books) tragic that this grittier type of story has come to prominence because it probably contributes to the general malaise that people feel.
So what happened to the stories peopled with characters you can cheer for and want to emulate, stories led by heroes who save the day and vanquish evil in the final act? Many of its critics (who currently outnumber its champions) think this type of story is unbelievable and unsophisticated, that its characters aren't "flawed" enough. It seems this type of story has fallen out of vogue in recent years, though there are still its practitioners and fans, and I doubt that either will go away. At the end of the day, these are always the stories I gravitate toward. These are the stories that remind me that today can be a good day, so long as I do my best.
Some stories show us how the world is. Some show is how it can be, whether good or bad. Still others show us how it ought to be, and give us the inspiration and the emotional fuel we need to make it that way, to become the heroes of our own stories and live the lives that we want to live.
As artists we have a choice. We can either fall in line with the trends of today, and I'm sure many of you will disagree with me and argue that this is the better path (if you do, please comment. I enjoy a good discussion). Or we can show our readers characters who do not yet exist, but can, doing things considered impossible, yet succeeding.
And who knows? We might just end up saving the world by the time the final page is turned.