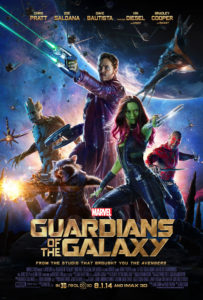 I love this movie.
Was it the best movie I've ever seen, or the one that made the most impact on my life?
Nope.
It didn't pretend to be. I knew going in that this movie was going to be a fun adventure, filled with space battles, aliens, and not-quite-heroes. And it worked. I didn't even know it was based on comic books, but I didn't need all that back story to enjoy a fun flick.
So what do we learn from a movie that doesn't pretend to be the biggest or the best or the most profound?
Gripping storytelling, and the magnifying influence of humor.
Even though this one was pitched as a funny adventure, it had more heart than I had expected. The characters had some cool aspects that came out as the story progressed, drawing the audience in and linking us to them through a surprising depth of emotion, and lots of laughter. Most people I've talked to smile with I mention this movie, and that should be considered a win.
The movie followed an interesting plot line as this group of outcasts, renegades, assassins, and hit men are thrown together and end up bonding through the process of a very entertaning prison break. Check out this clip:
And of course, one of the funniest things is that later, Peter Quill learns that Rocket was only joking about needing the artificial leg he had to pay 30,000 credits to acquire for them. A great example of the humor so pervasive in this movie.
As they work together to try to win their big score and escape relentless pursuit, they grow closer together, learn to trust each other, and end up facing the hard reality that the universe that has dealt them so many hard knocks needs their help.
As Peter Quill so eloquently put it: "When I look at us, I see a bunch of losers. I mean, people who have lost stuff."
https://www.youtube.com/watch?v=Gj4x–o954I
Coming from such a group, who had come from very hard lives, this scene was remarkably powerful. Even when Rocket grudgingly goes along with it by claiming, "I don't have that long a life span anyway." we feel the power of the moment despite his attempts to pretend he doesn't care.
The battle sequences are awesome, and we get to see the characters pushed to the limits. They don't disappoint, like when Groot makes the ultimate sacrifice to save his companions from death in the crashing spaceship.
https://www.youtube.com/watch?v=OAO4q2gkKCs
That's a great scene, even more powerful woven into such a funny, adventure story. Then we take things up yet another notch when all seems lost and Ronen is about to destroy the entire planet.
And so we flip back to humor. Peter's ultimate attempt to distract and defeat the evil Ronen is to challenge him to a dance off. When Ronen, who can't seem to say more than three or four words in any sentence asks yet again, "What are you doing?"
His answer is priceless. "I'm distracting you, you big turd blossom."
And the group unite to try to control the infinity stone, a power that should be too much for them to handle. Yet somehow, together, they manage.
So yeah, this rollicking adventure kept me interested with the cool action, a cast of characters that we grow to love, despite all the reasons not to, and excellent use of humor. But the end result grew beyond the sum of its parts with the deeper moments of humanity, of sacrifice, and of true friendship.
About the Author: Frank Morin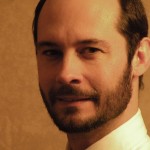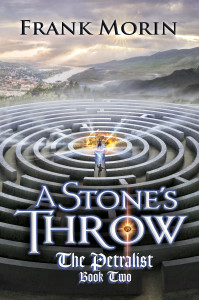 Frank Morin loves good stories in every form.  When not writing or trying to keep up with his active family, he's often found hiking, camping, Scuba diving, or enjoying other outdoor activities.  For updates on upcoming releases of his popular Petralist YA fantasy novels, or his fast-paced Facetakers scifi time travel thrillers, check his website:  www.frankmorin.org