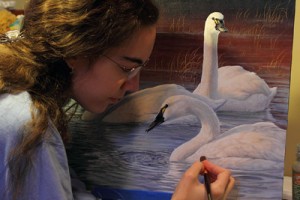 Guest Post by Jennifer Miller
I want to thank Joshua Essoe for inviting me to write an entry today! I'm going to talk with you about visual artwork for your book-for most, this means cover art. Unlike many bloggers here, I am a visual artist, and not an artist with words, so if you make it to the end, pat yourself on the back.
Before I begin, I wish to make clear that I am going to focus on those writers that intend to self-publish, or publish with smaller independent publishers. Large publishers tend to have their own artists that they work with; sometimes the author has little say in who illustrates their cover. Exceptions to this might be illustrated children's books and things like graphic novels, that have a lot of art on each page. That is a subject for another post entirely. Pressing on….
You have a great story. You stand behind it, and you are ready to publish. Time to slap some art on that thang and call it done! The theory is simple; you want something that instantly tells the reader something about your book… perhaps a mood, or a key scene, or even just a mysterious glimpse to grab their attention. The cover is your product packaging, so some care must be considered beyond "put a nice picture on there."
Okay, so you knew this was coming: "You can't judge a book by it's cover." This is, of course, true about the story, but it is hardly a good reason to dismiss the cover. While I am admittedly biased, I am sure that if you asked around, I am far from alone: people notice the cover. The book is not defined solely by its cover, but certainly a cover can greatly influence who notices your book, how many people notice it, and why they notice it.
Check out this quote: "The cover may very well be the single biggest piece of marketing that book will receive," says Paul Buckley, the Vice President Executive Creative Director at Penguin Group USA. "For first time authors and writers that have not yet built up a big following, the cover may be the only thing that gets a reader (or reviewer, for that matter) to physically pick the book up." (source below)
While e-books have started to pick up steam, both book types benefit from having eye-catching art on the front. In fact, some suggest that e-book covers are just as important than those on physical books, because online buyers are presented with a myriad of thumbnail images when browsing on the most popular sites. The most eye-catching images in the thumbnail soup can have a big impact on what pages readers open up to further investigate. In the physical world, I cannot begin to count the number of times I have picked up a book based on the subject matter on the cover. Whether I was delighted or disappointed with the contents of the book is beside the point–the cover got it in my hands and got my eyes reading that wonderful text inside….
For much more reading on the importance of covers, check out this article.
Well, you've decided you want a cover, and you have the freedom to select the artist you want. Where to begin? Some of you might have an artist in mind for years, or some of you might have no idea. One way to start out is to consider your genre and begin your search that way. There are many websites out there; some are direct galleries on personal artist websites, and some are a huge mosh pit of everything. Browsing and searching might take some time, so kick back and enjoy the visual roller coaster.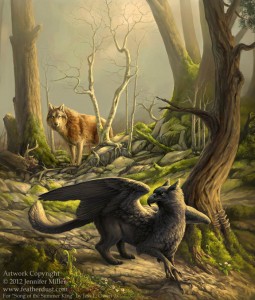 Once you find someone that tickles your fancy, pay close attention to their subject matter and style, and imagine that style on your cover. Visualize what subject matter you want–is it radically different from anything the artist has in their gallery? One thing that surprises me as an artist is that sometimes I will have someone in love with my style, but pays no attention to my subject matter… or, someone that is in love with my subject matter, and pays no attention to style. By all means, artists do branch out, and it never hurts to ask! But… do not be surprised if the photo-realistic artist is not keen to paint an anime-style cover for you, or if the artist that paints landscapes says 'no' to your cyber-punk cover. You may be pleasantly surprised, of course, but observing the artist's strengths can only help you find someone that will mesh well with your project!
Another important consideration is time. For some artists, rolling out a complete painting in a short period of time is no big deal, and some people do work better under stress. For most artists though, we have a great many projects that have deadlines throughout the year. Asking for a fully detailed cover painting just days before you hope to publish is a good way to get a "sorry, I cannot…" letter in return, or… at the very least, some pretty stiff "rush fees" to cover the all-nighters that such a project entails. Different artists can work at different speeds, but a really nicely-detailed piece can take me more than one hundred hours. This is not counting the investment of time in research, and communication to make sure everything is on track. It is not unreasonable to consider contacting your potential artist at least six months before you have a deadline; some high-profile artists might need more advance warning than that.
Cost is something I am only going to touch on lightly because, frankly, this is a wild variable. I like to think that artists and writers have a sort of brotherhood (I think of it as the Brotherhood/Sisterhood of Underpaid Creative Persons). We both know what it is to do something you love and probably not get paid much for it. We both know what it's like to be self-employed, and how much of our money just flies right out the window to the tax man and bill collector. Just as you would hope that someone would be willing to pay fairly for your time, please consider paying an artist fairly for theirs. I have found that most writers are amazingly cool about this (go, Brotherhood!), but I have had a fair number of rude individuals that tried to convince me that my time and skills were worth nothing. There is an artist out there that will work for any cover budget you have, but you will probably get what you pay for. Investing in a good cover is one of the most important investments you place in your book. However, don't be deterred if you can't afford much. Look for artists whose work is simple and has less time invested. If your artist has any sort of following, consider the amount of traffic simply having them do the cover might bring you. Once they have art published on your book, they have an investment in your book now too.
Rights and contracts: this is something that a lot of authors don't consider until their artist is asking, "What rights do you need to buy?"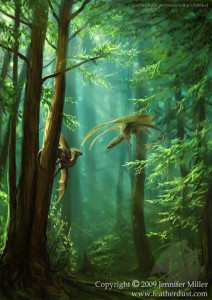 Uh, what? Now, I am not a lawyer, nor do I play one on the internet, but this is always, always, always the time for contacts. It doesn't matter if it's your best friend, or your sister's boss, or your grandma. Get a contract written. Be clear what is expected from the start, and who gets what rights, and what those rights cost. This can, and has, saved many a proverbial rear-end in the past. Authors don't often think, "Well, this one will end up on the bestseller list, and get turned into eighteen movies, and will sell millions of action figures, and t-shirts at Hot Topic." But… sometimes, just sometimes, this actually happens. Research some the high-grossing current authors and you will soon realize that they rarely knew something was going to make it big. Knowing who owns the art for what purposes is a big deal when this sort of thing happens, and the only thing worse than being enemies with your artist is fighting each other in court. Don't do this. Be friends, and write contracts. If you need help with this, there are a lot of websites out there than can help you, and some even provide contract templates. When in doubt, ask a copyright lawyer.
Communication is always important. This is where an artist-writer relationship can be made or broken. Of course, be polite for goodness' sakes… but don't waffle. Be clear about your expectations from the start, what you want, when you want it, and if you want fries with that. Expect your artist to do the same; if you need to, ask them to please describe the process so you know what to expect. Don't be afraid to ask questions, and remember that even if you have a very clear mental image of the artwork, the artist cannot read your mind. You are a writer, by George! Use your words to paint them a picture so they can paint you something you are pleased with.
When author and artist really mesh and have a good time with the process, it is a beautiful thing. Mutually helping one another through all parts of the process, and beyond, is part of the wonderful community building that bonds creative people together and keeps them from going completely off the deep end. We are the Brotherhood of Underpaid Creative Persons, darn it, so let's make something wonderful together!
Jennifer Miller resides in NY state in a rural area, surrounded by parrots and chickens. She's an award winning professional artist that specializes in fantasy and wildlife artworks. Her work is sported on the cover of several published fantasy novels, as well as children's books and a few anthologies. In the past she has freelanced for Nickelodeon magazine and Baen publishing. You can find more about her and see her work at 
www.featherdust.com
.