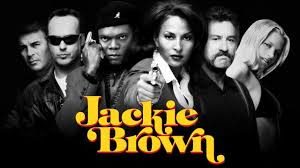 Quentin Tarantino's Subtle Masterpiece
We've all seen Quentin Tarantino's movies and the episodes of television he has guest-directed (I'm partial to his epic episode of ER), and there are so many things we love or maybe hate about them. I have my favorites and my not-so favorites like everyone else. Yet, his almost unique approach to storytelling makes him one of the examples I use when I discuss movies that are even better than their screenplays read. Does he tend to have too-long periods of conversation? Sure. Is there a lot of gratuitous violence? Yes. But it hasn't always been that way.  Along the way, he mastered subtle story-telling.
My favorite of Tarantino's movies is Jackie Brown. The movie is based on crime fiction master Elmore Leonard's novel Rum Punch. With a stellar cast including Pam Grier, Samuel L. Jackson, Michael Keaton, Robert Forster, Chris Tucker, Bridget Fonda, and Robert De Niro, this film is not a hyper-violent revenge saga (Kill Bill) or a riff on alternate history (Inglorious Basterds), this is a very subtle character study and as such it is a masterpiece.
Jackie Brown (Grier) is a middle-aged flight attendant who smuggles money from Mexico into the United States for arms dealer Ordell Robbie (Jackson). When she's caught by Federal agents, they propose a deal for her to help them arrest Ordell in exchange for her freedom. Ordell bails out Jackie with the intention of eliminating her, but Jackie is thinking ahead and plots a way to steal $500,000 from Ordell with the help of her bail bondsman Max Cherry (Forster). Things seldom are so simple.
From the beginning of the movie, the characters are so subtly handled that it almost makes you wonder if you're watching a Tarantino film. We immediately like and empathize with Jackie in a dead-end job because we see her hurrying through the airport and putting on a smile all the while. When she's caught, we can see she was stuck in the middle of a bad situation because it helped financially. Ordell (a masterful performance by Jackson) is creepy, distrustful, and loathsome from the moment we meet him – and he gets worse throughout the film. But these audience reactions are genuine and not ham-fisted by any means. Just by watching the movie and letting the character's depth play out visually, you pick these things up. Tarantino mastered "show, don't tell" and he doesn't need product placement, direct conversation, or tedious imagery to get the point across.
The heart of the movie is the relationship between Jackie and Max. We see two middle-aged people in dead-end jobs that they do not enjoy being drawn together. How Tarantino handles their relationship is simply beautiful. The gradual development of their unspoken feelings for each other reaches a crescendo when Max puts his life on the line for her. I won't spoil the ending, but the first time I watched it I remember wishing like hell it had been different only to realize that it was perfectly crafted for the characters because of who they were and what we as the audience had learned about them throughout the film.
And one more example. Robert De Niro's character is such a departure for the actor that you're almost dumbfounded he's playing that role. To me, this is brilliant casting because you're waiting for De Niro to be De Niro, you know? And when it happens, it's brutal and perfect. I'll leave it at that and not spoil much more. Brilliant casting.
One final thought. I always write with music playing and I pay very close attention to movie soundtracks for what works and what does not. Music is important to mood and when done well it's a subtle attention grabber. The soundtrack for this movie is simply amazing.  Every song fits its scene perfectly.
Tarantino's strength in bringing memorable characters to life with the subtle aspects of their personalities, likes, dislikes, and they way there simply "are" is something all of us should strive for in our writing.  Beating the reader over the head with what you want them to know takes away from the level of care they should develop for your characters.  Be subtle.  Be brilliant.