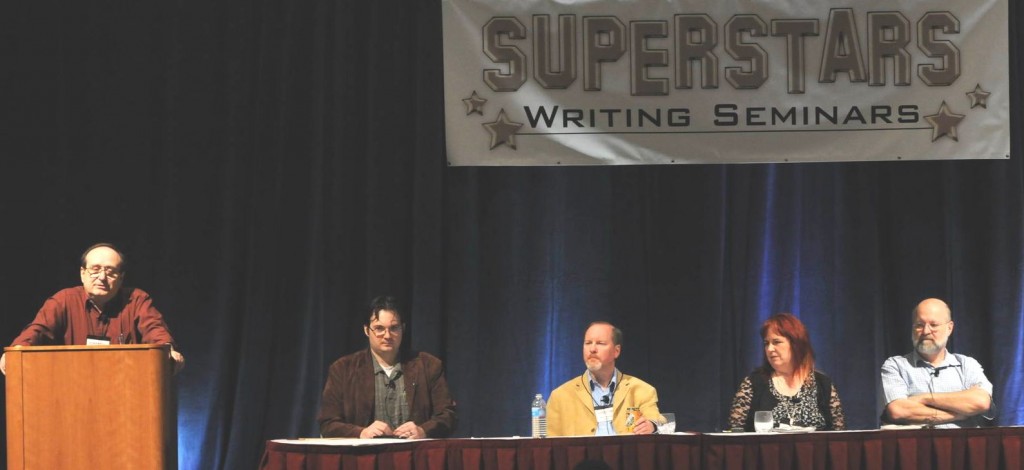 Welcome to Day 2 of Q&A with David Farland and Kevin J. Anderson. You can access the authors' websites at http://www.wordfire.com/ and http://www.davidfarland.net/ respectively. Kevin J. Anderson has a post on his  blogsite devoted to the seminar and those presenting in 2012, http://kjablog.com/On to the interviews:
 *              *              *
Q: What do you have to go through to prepare for the seminar?
David Farland: I simply meditate on the topic that I'm going to teach, normally. Much of this is information that I've gleaned over the past thirty years, and so I might need to write down notes, codify what I know. Normally, we're talking about topics that you can't get much information about in books.
Kevin J. Anderson: The talks and panels themselves are not so difficult, because we have all lived this material and we know it very well. For me and Rebecca, it's all the complicated logistics of setting everything up with the venue, and then doing the publicity, waiting for signups, hoping that we get enough attendees to pay our expenses, and then managing all the little details.
Q: What is your favorite panel and why?
Kevin: I enjoy giving the "Popcorn Theory" talk, because it's fun to show people how all these projects don't happen in a vacuum-if you do good work, one thing leads to another and another.
Dave: I think that I'm most interested in the panels on self-marketing, particularly ones that involve social media, quite simply because we have people like Brandon and Kevin who are the best writers I know on the topic. I actually learn things in these panels that I can take home and implement myself!
Q: What part of the Authors Dinner do you like best?
Kevin: Hmm, the potatoes, maybe. Or the dessert. But probably having a chance to sit down and talk with some of the students, face to face in a relaxed setting for a few hours. We end up asking them as many questions as they know us. Many of the attendees of past Superstars will realize that we really do consider you to be friends and colleagues, and we hope to watch your careers skyrocket.
Dave: For me, it's just getting to know the authors, try to find out where they are in their careers, what they need, and in a short time see if I can offer some advice that might be of help.
Q: The publishing industry is changing fast. Now going on your third year, has the content of the Superstars seminar had to change to reflect the ever-evolving industry? If so, in what ways?
Dave: Yes, we are going through some dramatic changes, with the rise of the whole self-publishing movement. It really has become a viable way for an author to get into business, but it has its own pratfalls and its own huge potential. To me, it suggests that we need to expand our curriculum a bit, to cover the new media. It's a very exciting time that we live in!
Kevin: A lot of the lectures are still relevant–the professionalism, productivity, networking, etc. We are going to have a lot more focus on eBooks, indy publishing, hardcopy as well as electronic — maybe even half a day to the topic. Dean Wesley Smith is giving a full hour on copyright law and Kris is doing a talk (which I can't wait to hear myself) on tough negotiating, getting better deals and how to change contract terms that aren't in your favor. I think we might also do a lecture on income streams (instant money, long-term trickles, etc.) We have always had more material than we could possibly cover. We do want to change it up so it's not just a rerun every year. We're still developing the curriculum, but it should have all the good stuff from before and some new and relevant stuff too.
*              *              *
Kevin and Dave are enthusiastic about sharing knowledge, always glad to help serious writers improve their abilities and prepare for the difficult process of getting published. All of us fictorians want to thank them for their encouragement, eager participation in our blog, and for bringing us together through the Superstars Seminar.
I'm confident I'll enjoy another information-packed seminar in April, and I'm looking forward to making more writing friends. If you'll be going for the first time in 2012, or if you have questions for us attendees, please drop us a note in the comment box below.
Starting Monday, we'll be back to our regular MWF blog schedule with a guest post by Mignon Fogarty: the Grammar Girl (one of our more famous Superstars alumni).