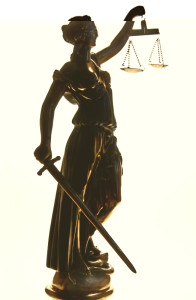 Welcome to Legal Month at the Fictorians!
Writers are business people. We own our enterprises and are responsible for them. While we often focus on the craft of writing on this site we felt a walk on the business side was necessary. We're going to spend much of March looking at issues writers, and all business owners in fact, need to know about the law such as taxes, necessary record keeping, agents, contracts, indemnification and reversion clauses, copyright, creating your business, creating publishing company, and much more. An important note about this month: We're not providing legal advice and if you have specific questions about the law and how it applies to your situation, please contact an attorney where you live.
Five facts about the law every business owner needs to know:
FACT 1 –  Anyone can sue you. 
Legal disputes are part of the cost of doing business. For the fiscal year ending September 20, 2012 (the most recent one I could find statistics on), the United States Federal Courts had 278,442 new civil law suits filed. http://www.uscourts.gov/Statistics/JudicialBusiness/2012.aspx  While this number represents a decrease in filings from the previous year it's still a respectable number. Keep in mind too that this figure doesn't take into account new cases filed  in a state court. While there are rules against frivolous or harassing law suits it is often difficult to show that any specific case was completely baseless and the other side should have known that their claim wasn't legitimate when they filed.
Litigation is VERY expensive. A bit of prevention (and expense) can save you thousands on the back-end. A business lawyer's job is to anticipate what could go wrong and try to give you the best possible protection in case the worst happens. Nothing is perfect though, and the more successful you become the bigger the target on your back.  Which brings me to my second point…
FACT 2 – Becoming a Corporation is Inexpensive and Provides You with a Level of Protection. 
You are almost always better off operating under a corporate umbrella rather than being a partnership or a sole proprietor.  Corporations are considered separate "people" from their owners under American law.  As a general rule a person suing a company can only collect their judgment  from the company's asset, not the owners'.  Incorporating also allows you to keep profitable ventures separate from more experimental ones or ones losing money. It is fairly common practice for a real estate developer, as an example, to form a new company for every project that way if project X fails the business does not have to use its revenue from successful venture Y to pay off X's debts. The owners merely pay off as much of X's debts as they can with whatever assets X has left without jeopardizing their or that of their other ventures' financial health.  Is it necessary for a writer to have a new company for every book? Not generally. Writing is not generally considered a high risk enterprise.
Another advantage to operating through a company is the ability to give yourself a salary and issue yourself a W-2. Being a W-2 employee has several tax advantages. It also means you qualify as an employee and not self-employed when the time comes for you to get a loan, whether business or personal.
FACT 3 – You Are Responsible For The People You Hire. 
Employees are a mixed blessing. They are fabulous because they let you do the things you love doing about your business – like writing – and delegate the things you like least or take too much time away from your main focus  – for example, maintaining a website or social media presence.  The also present their own special set of legal challenges.  But I'm to not going dwell too long on theses since that's a several post long discussions. Let me point out two though.
Your employees are part of your public face. Their acting badly reflects on you. Choose your agents, publicists, editors, lawyers, accountants, and employees with care. In this highly visible world a stray (or not so stray) comment on a social media site can bring down an empire. After all, it only took the Doctor six words to bring down an administration.
Ensure you classify the people who work for or with you properly. While it might be tempting to classify your helpers as independent contractors spend time with a lawyer to make sure they qualify under the IRS guidelines. Understand that all exempt (from United States Federal Overtime requirements) employees are salaried, not all salaried employees are exempt. There are also state laws governing when an employee must be paid overtime. Again this is a classification issue and some up front time with a lawyer can save your business.
FACT 4 – You Will Be Deemed to Know the Law and What Your Contracts Say Even if You Don't. 
Ignorance of the law is not a defense. Don't sign any document you haven't read. If litigation results a court will deem you to have known and understood a contract's terms. Lots of nasty upsets can be avoided simply by reading a contract.  Know what you've agreed to. If you don't understand, I mean really understand, what you are being asked to sign, DON"T SIGN IT and seek legal advice first. Renegotiate the unacceptable terms. Sometimes walking away from a bad deal is the best you can do.
FACT 5 – Words Matter.
This last one shouldn't surprise you. After all, who knows that words matter than a writer? Fellow Superstar Attendee Mignon Fogerty aka Grammar Girl once asked me if it was true that lawyers litigated over the placement of a comma. The answer is "sometimes" as comma placement can change a sentence's meaning. I've litigated the meaning of "unique", and "exclusive" and, yes, exactly what a clause modified (i.e. did the comma mean anything?).
Do not accept a word you do not understand.  Contracts, especially older ones, use the word "witnesseth." When I've struck the word and asked the other attorney what the term meant…well, let's just say I manage to get it struck most of the time. Why? Because it's unnecessary. "Witnesseth" means "to take notice of" rather than to "witness" a document. Since the word comes before the signature lines it's a bit obvious that the person signing has "noticed" the document. We're going to have posts focusing on specific words in indemnification and reversion clauses so I won't belabor the issue about the meaning of words  here.
Keeping these principles in mind won't guarantee that you'll never have a legal dispute. But they just might let you know when to seek professional help from lawyers or tax professionals.
I hope you enjoy the upcoming month, and come back for more great information.
Disclaimer:
 The materials available at this website are for informational purposes only and not for the purpose of providing legal advice. You should contact your attorney
to obtain advice with respect to any particular issue or problem. No attorney-client relationship has been created.  Legal information is not the same as legal advice — the application of law to an individual's specific circumstances. Although we go to great lengths to make sure our information is accurate and useful, we recommend you consult a lawyer if you want professional assurance that our information, and your interpretation of it, is appropriate to your particular situation.