There are some people who cringe at the idea of combining science fiction and romance. I suspect that these same people also don't like Firefly so their opinions don't really matter anyway. Personally I like a spoonful of romance in my steaming cup of science.
Science fiction is a genre that romance plays well with. Okay, I'll be honest. If romance was a person they would be a double-jointed omnisexual gymnast. Romance can be easily adapted to satisfy everyone's needs and plays well with every genre. But when it's combined with science fiction it gives the story a lot of *ahem* unexplored territory in which to boldly go where Kirk has gone before.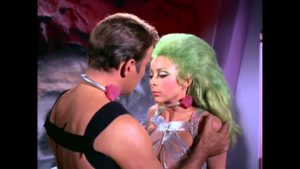 (Bondage night with Lady Gaga?)
At its heart, science fiction is about exploring new possibilities.  Sometimes it's a new scientific theory, sometimes it's a new planet, and sometimes you're running from Shai-Hulud. Regardless of the territory it's still all about exploration and all of the joy, fear, trepidation, and danger that goes with it. If you boil romance down to its very essence it's about the same thing. Seriously. What's more exciting and terrifying than exploring a space cave and nearly getting mauled by a Gorn? What can be more explosive than the Tothian minefield? Relationships!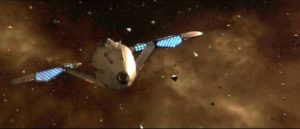 (I'm pretty sure the odds of not starting an argument when you suggest that your partner stop and ask for directions is 3,720:1)
Yes, there are a lot of novels where the romance is merely a time slot on the holodeck or a green skinned Mary Sue. But it isn't limited to that. In fact, it can be a lot more.
When done well, romance can compound a story's major conflict (cue Ted and Robin salute). In Babylon 5 the romance between Capt. Sheridan and Ambassador Delenn made it a lot harder for them to take necessary risks during the Shadow war. It also made things very awkward when (Spoiler alert) it turned out that Sheridan's wife wasn't dead. On the other side of the spectrum, Marcus' final sacrifice wouldn't have brought a tear to many viewers eyes, including mine, if his love for Ivanova wasn't unrequited. The fact that they hadn't so much as kissed turned what would have been just a noble act into the most romantically tragic moment in the entire show.
Let's not forget that The Empire Strikes Back wouldn't be the same without Han and Leia's love spat or heartbreaking farewell. (Odd that both were in very cold climates.) But that's enough examples from TV and movies. Let's turn to books!
Linnea Sinclair writes some of the best sci-fi romances I've read. In fact, her novel, Shades of Dark made me cry. Some of hers are exactly what you would expect a sci-fi romance to be. However, in Shades of Dark  the protagonist couple's relationship become strained to the point of breaking when one of them starts learning how to use their latent alien abilities. They realize, almost too late, that their ignorance and folly not only hurt their relationship but put their partner in very real danger. It's this last twist that for me makes this romantic conflict real. I mean we probably all know someone or were with someone who became so obsessed with something that it almost destroyed, or did destroy, a happy relationship.
In The Postman by David Brin the protagonist falls in love with an idea more than an actual person. When he stumbles upon a quiet, and safe community the idea of staying and building a life there rather than taking on the mantle of responsibility of being a postman is incredibly appealing. In some ways it's strange to think of an idea as being romantic. Think if it this way: when you've been up late working on a manuscript and have to get ready for work at the crack of dawn, the idea of calling in sick has a lot of appeal. This is the same thing except their desire for comfort and ease is so idealized that it takes on a romantic quality.
Dara Joy is an amazing romance writer whose stories sometimes has a sci-fi twist. She has a duology, High Energy and High Intensity, that's set in the real world but uses science in an… interesting way. The main character's love interest is a sexy physicist who decides to teach them the basics of physics through sex. I know. It sounds super cheesy but take my word for it. It's hot! Besides, who wouldn't want to go to that physics class?
Okay. I'll admit that last one was a traditional romance. While it doesn't use romantic elements in a creative was she does get bonus points for including science in a creative way. This partnership does work both ways after all.
Whether you use a little or a lot, use more romance or use more science, or use a romanticized idea is up to you. It's also by no means a requirement that there be romance in every science-fiction story. Rather, it's another tool that can perform more than one task. It's entirely up to you whether or not to use it, as well as how you want to use it.