In order to make a living at my writing, I must act like a professional writer. At first, I thought that meant that I needed to establish an identity and brand myself as a writer. Though that is true, I recently realized that that is only part of the story. I invest money into Nathan, but do not track that expenditure as well as I should. I'm an engineer by training, not an accountant. This means that I must learn a new set of skills.
Unfortunately, I can give much less concrete advice on this topic that I could on yesterday's discussion on branding. I am still exploring my options, and seeking advice for my own use. So instead of giving advice on the end game, I'll try to explain my process so far, what I have learned, and maybe save my readers a few steps. If, on the other hand, one of our readers were to have knowledge and expertise beyond my ken, I will be monitoring the comments very closely. 🙂
First, I need to set the direction of my business. What are my business goals, and what timeline do I wish to establish these goals upon? I am doing research online about writing formal business plans, and will sit down to do so in the next few months. I am looking at my next creative projects, and judging them based on their business value rather than my personal entertainment. Being a businessman is as much a mindset as anything else.
Second, I am looking at what sort of business I need to establish. I have learned that if you do not set up a formal business framework, you, by default, form what is called a sole proprietorship.  This is at least how it works in the United States. In this sort of business structure, individuals can sue me directly for my business debts. Though the sole proprietorship gives me a framework to operate within, I am not too fond of this drawback. General partnerships seem to spread this risk between multiple individuals, but my writing business would not involve another at this time. So, that business structure does not fit either. Instead, I am looking at establishing either an LLC or Corporation.
As per my understanding, both of these structures create a separate legal and fiscal entity, sheltering me as the owner from some liabilities. The legalities behind these types of business entities are a bit more complex, ranging from their formation to how they're taxed, to how they are viewed in a legal setting. I am taking my time with the research, seeking to understand as many details as possible before I move forward. It seems like I can transform one type of business entity to another, but it also seems simpler to adopt the best fit from the beginning.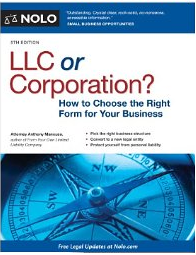 To learn all this, I am googling my local state's tax laws, Corporation codes, and reading a book called LLC or Corporation? By Anthony Mancuso. The book is part of a series called "NOLO" that describes the law in simple terms and includes web support for free legal updates. It was highly recommended based on reviews, so I gave it a try, and have not been disappointed.
While I am working on forming my business entity, I am also cleaning up my books. Though I have limited financial training, I have an understanding of the basics of business accounting. Though most of my cash flow to date has been expenditure, I found that much of this can be deducted from my personal taxes at the end of the year. Eventually, I intend this to be a thriving business, so it is for the best to get into good accounting practices now.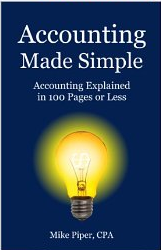 To help me with this end, I have purchased a copy of QuickBooks, which I'm using to help track business expenses such as writers resources, conventions, and even my new laptop. At the end of the year, I'll use QuickBooks exports with my tax preparation software and hopefully get a good return from the investments. I am also working to improve my knowledge of basic accounting, with online articles and books such as Accounting Made Simple by Mike Piper. Though this book will not make me an expert, it is a quick guide to help me avoid an expensive faux pas down the road.
I recognize that I have a great deal more studying to do, on both business structures and accounting. I am however just lifting my foot to take the next step in my journey as a professional. I spent a long time learning to be a writer, and now I am learning to be a business person. I can't expect to be perfect overnight, but I believe that hard work and diligent research will translate into future benefit. After all, it's one more step in the right direction.