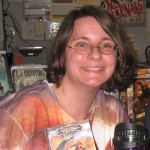 A Guest Interview with Marsheila Rockwell
Marsheila (Marcy) Rockwell joins us today to talk about writing tie-in fiction. She is the author of three novels for Wizards of the Coast, all of which tie into the Eberron D&D Campaign Setting and/or the popular MMORPG, Dungeons & Dragons Online. They are: Legacy of Wolves (2007, rereleased as an ebook on 5/15), The Shard Axe (2011), and Skein of Shadows (releases 7/3).
Colette: What, exactly, is tie-in fiction?
Marcy: In technical terms, it's fiction that "ties in" to some other media property, like a television show, movie, video game, or role-playing game. It's also known as "work-for-hire," because you can't just decide to write a novel that ties into one of these properties on your own (unless you want to get sued) – you have to be hired by the property owner to do so.
Colette: How did you decide you wanted to write tie-in fiction?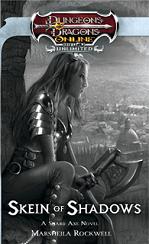 Marcy: I started reading fantasy when I was three, began playing Dungeons & Dragons (D&D) in the third grade, and penned my first fantasy story at the age of twelve. When TSR (later acquired by Wizards of the Coast, aka WotC) started publishing novels set in the various D&D campaign worlds, I knew that's what I wanted to write. Of course wanting to do it and getting hired to do it are two very different things.
Colette: So how did you get hired by WotC?
Marcy: Back in 2003, WotC put out an open call for one of the books in the Forgotten Realms "Priests" series, called Maiden of Pain. While I didn't win that open call, my writing did bring me to the attention of the WotC editors, and I continued to submit to them over the next several years until one of my Eberron proposals caught their eye (the book that later became Legacy of Wolves), and they offered me a contract. So, basically, they let me write a book just so I'd stop bugging them. And I just finished up my third book for them, so I guess it worked out pretty well for both of us. 😉
Colette: What has writing tie-in fiction taught you that has helped your overall writing career?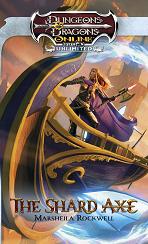 Marcy: The first and most important thing tie-in work has taught me is how to write to a deadline. When you are doing creator-owned fiction, you write your story, sometimes taking years to complete a book. Then you submit it, and maybe you get lucky and sell it right away. Then, all of the sudden, your new publisher wants another book in 9 months. And then you panic, because you're used to writing whenever the inspiration strikes, and with a deadline looming, it's nowhere to be found.
There's a reason a lot of authors' sophomore efforts don't live up to their debut novels, and it's largely because they've never had to write on deadline before. I've written 30,000 words in one week to meet a deadline (because of the tight schedules associated with virtually all tie-in writing), so I've learned that inspiration comes when butt is applied to seat, and there's no such thing as writer's block when the mortgage is due.
Colette: Would you suggest writing tie-in fiction to other authors, or only those that have a passion for a particular property?
Marcy: Writing tie-in fiction isn't for people who think writing is an art, it's for the folks who know it's a business. You have to be able to work under pressure, absorb a lot of information quickly, change gears on a dime, and abide by strict rules, like non-disclosure agreements (NDAs). If that doesn't sound like fun to you, chances are good that writing tie-in fiction would just leave you frustrated and with only half a head of hair. If, on the other hand, it does sound like fun, I'd suggest a visit to your doctor – they have medication for that now, heh.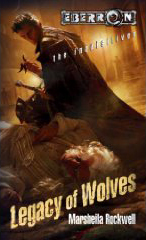 Seriously, though – it can be very satisfying to contribute to a property you love, but, generally speaking, it's a lot of work and it's not for the faint of heart. If it still sounds interesting to you, you also need to know that it's largely an invitation-only business. Watch for open calls (Warhammer has one every year), and get some publishing credits out there, in the same genre as the tie-in work you want to do. Go to conventions where tie-in properties are featured, listen to what the editors are saying, and do what they tell you to do. And, if you get the chance to submit something, get it in early. Editors love good writers, but being good isn't enough. They hire – and keep hiring – the ones who consistently meet their deadlines.
And actually, that advice is sound regardless of whether you're doing tie-in work or writing creator-owned fiction. Be focused, be flexible, be professional, and never, ever miss a deadline if it's within your power to meet it. Good luck!
BIO:
Marsheila (Marcy) Rockwell is an author, poet, editor, engineer, Navy wife and cancer mom. In addition to her tie-in work, she has a new (creator-owned) series of Arabian-flavored, female-centric sword & sorcery stories coming out from Musa Publishing, Tales of Sand and Sorcery. The latest installment, "Both," released on 5/18. She's also penned dozens of short stories and poems, and several articles on writing tie-in fiction. You can find out more here:http://www.marsheilarockwell.com/.