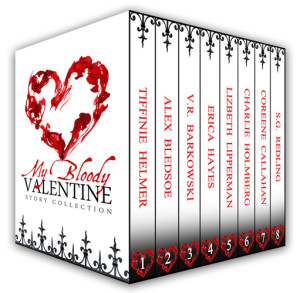 A guest post by Tiffinie Helmer.
Love and murder have a lot in common. Passion. It takes passion to love someone, and it takes passion to kill someone. That tightrope of love and hate we all balance on. Love and murder are my two favorite things to write about. Interesting enough, love is the harder of the two (no pun intended). I could kill every day of the week. I don't want to know what that says about me. My favorite writing days are the days I get to kill someone. And my least favorite writing days are when I have to pen a love scene. I agonize over the love scenes. Every sentence, every word is painstakingly written. Whereas I can kill without a thought or a plan and happily carry on, and have, check out DEATH CACHE. Some of the deaths in that book surprised even me. One in particular that I almost deleted because I had fallen in love with my character, but alas I left him dead because it amped up the tension in the story.
In the anthology, MY BLOODY VALENTINE, we all start our stories with the first line, "Love hurts." In my story HEARTLESS, I have a heroine who is angry. Really angry and she is one of my favorite kind of heroine to write about. So much conflict and angst. There isn't anything she isn't willing to do since she is so angry. That makes her exciting. She's moonlighting as a dominatrix because she's been ordered to pay her deadbeat ex-husband alimony. Turns out whipping men for money is more therapeutic than therapy. To make matters worse, (because I can and will) her clients start turning up dead. Now the cops are investigating her with suspicion of murder. Maybe her anger got the best of her and she truly is heartless.
This was a very fun story to write. Lots of passion. I explore many different levels of love from the first innocent crush to the more deadly obsession. Oh, yeah and of course I killed people.
Oh how I love my job!
Guest Writer Bio:
USA Today Bestselling Author Tiffinie Helmer is always up for a gripping adventure. Raised in Alaska, she was dragged 'Outside' by her husband, but escapes the lower forty-eight to spend her summers commercial fishing on the Bering Sea.
A mother of four, Tiffinie divides her time between enjoying her family, throwing her acclaimed pottery, and writing of flawed characters in unique and severe situations.
You can find her new anthology, MY BLOODY VALENTINE on Amazon and Barnes and Noble. You can find out more about her at her website www.tiffiniehelmer.com.