Evil exists in the world. In fact, to some degree it exists in all of us—a dark side that usually only emerges in our most private thoughts but may occasionally peek into the light of day. For the most part, we don't let this happen. Indeed, for the most part we are good people. In evolutionary terms, goodness propagates itself more successfully; evil is inherently maladaptive.
The worst kind of motivation for a villain is intrinsic, deep-seated evil. They're evil because they were born that way. Or they crave power obsessively. To me, this almost never rings true. I suppose there are some people like that in the real world, but they must be a rare breed. Most people think of themselves as more or less good—not necessarily saintly, but closer to Mother Teresa than to Adolf Hitler.
Intriguingly, even the people who really are closer to Adolf Hitler probably view themselves as being closer to Mother Teresa, and this is fertile ground for growing conflict in our stories. First of all, a villain is not the same thing as an antagonist. You don't need a villain to tell a good story, but you probably need an antagonist. What's the difference? Well, think about it this way. Sometimes you just have two fairly normal people who just happen to want very different things… perhaps even diametrically opposed things… and thus the clash happens. (Exhibit A: Sad Puppies vs. Social Justice Warriors; no evil, moustache-twirling villains here, but a hell of a lot of conflict-enriching antagonism.)
When building a story, try setting up a conflict between two or more sides in which every side could be anchored by a strong, relatable protagonist. The only difference between a protagonist and an antagonist is often the fact that the protagonist gets the primary point of view; if you swap things around, those two characters can easily switch roles without changing the fundamentals of the story.
As a thought experiment, it could even be interesting to try actually writing the story from different points of view. Walk in your antagonist's shoes; make them the protagonist and see what happens.
Indeed, conflict requires no evil. Just opposition. And effective, relatable, compelling opposition is rarely in short supply.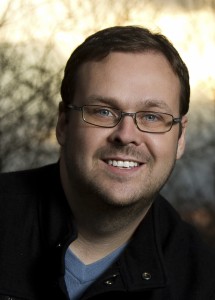 Evan Braun is an author and editor who has been writing books for the last two decades. He is the author of The Watchers Chronicle, whose third volume, The Law of Radiance, is forthcoming this spring. He specializes in hard science fiction and lives in the vicinity of Winnipeg, Manitoba.