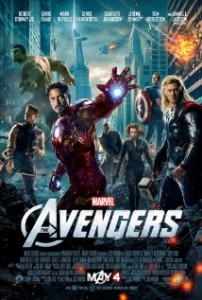 Sure, the Avengers has its faults, but the weaker aspects of the film are more than made up for by aspects that worked unbelievably well. Pacing, the juggling of an ensemble cast, great dialogue, the list goes on and on.
The Writing Excuses podcast recently covered what the Avengers did right, which everyone should give a listen to, if you haven't already.
One of the things I think this movie handles very well is the making of promises. Of course, this post is far too short to cover the subject exhaustively, so we'll stick to just a few scenes.
The film starts out with an obvious promise. The Other's voice-over promises an impending invasion, sets up the stakes a bit and asks  "…and the humans, what can they do but burn?"
If that isn't a loaded question, I don't know what is.
That scene is followed by Loki's arrival, which gives us all kinds of promises. It tells us what to expect from the film: lots of nifty effects (doorways to the other end of space are so pretty), quick pacing (things turn from bad [the Tesseract misbehaving] to worse [Loki running off with said Tesseract] in no time at all), snappy repartee (Whedon's specialty that you have to hear to believe), and possible global annihilation (Agent Hill's admonition that "there may not be a minimum safe distance").
We also get all kinds of character promises. Fury's willingness to be buried shows how far he's willing to go. Hawkeye's competence in this scene sets him up as a valid threat when he's turned to the dark side and lets us easily accept him into the team when he gets his own personality back. Similarly, Dr. Selwig's knowledge of the Teseract promises the capacity to create a stable door for Loki's army to use, and his ability to sneak in a "kill switch" to turn it off again. Also, his mention of Thor, and Loki's subsequent reaction, promises equal danger to Selwig himself somewhere down the line. And am I the only one who, upon seeing Loki's first close up when he arrives, thought he was pulling a fantastic impersonation of the Joker's signature grin? This immediately sets this Loki apart from the one we met in Thor, taking him in a darker direction while still promising some fun when he makes all hell break loose.
A little later, Fury states that he believes the Avengers just need the right push to do what they need them to do. That push turns out to be Agent Coulson's death, and while we weep over the loss of such an entertaining and likable character, the death is not at all as meaningless as it would have otherwise been without the promise it helps fulfill.
But not all the promises are made at the beginning of the film. Almost halfway through the film, there's a promise that, when fulfilled, is probably one of the most memorable moments in recent cinema. While at work in the lab, Stark says in an offhand way that Loki is "playing with Acme dynamite" and that he's going to be there when it explodes in Loki's face. Now, he says this to Bruce Banner, who we soon learn is the "Acme dynamite" in question. He's the explosion Loki's banking on using to get the Avengers out of the way. Anyone who's seen the movie knows how that turns out, and while Stark isn't there to see the Hulk toss Loki around like a rag doll, it's still incredibly satisfying to watch. That unforgettable moment is also promised repeatedly with Whedon's proclivity to knock Asgardians out of frame in the middle of saying something.
Now, I'll admit that this film is cheating a bit. As part of a series of movies taking place within the Marvel universe, Whedon is able to lean on promises made in previous films to create a more fulfilling experience for the audience. He also has to make promises meant to be carried over to subsequent films.
Taking from this experience can be difficult depending on one's style. People who heavily outline their books will have an easier time of planning these promises, as they know what's going to happen. As a discovery writer, I have to go back to put these in after the fact, but I'm learning that my promises don't have to be clustered in the first part of the story, nor do they call attention to themselves. Yet, if nothing else is learned from a close observation of Whedon's use of making and fulfilling promises, it's that taking the time to pay attention to the promises you make can allow easier handling of other aspects, like juggling a large cast of characters, and can make the story far more powerful and effective.
Got another favorite, or a movie you think does it better? Leave a comment and let us know.