A Guest Post by Marie Bilodeau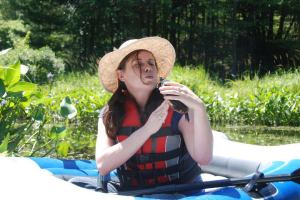 I've always seen my career as a long-term one. Whenever I envisioned my future self as a novelist, I pictured a steady growth in sales and popularity. I hardly ever dreamt of immediate bestseller success, since I'd seen so many fizzled careers based on that first, all too successful, difficult to follow up book.  I wanted to make sure that I was steady, confident in my own voice and that I kept producing good stories while growing my fan base.
I sold my first book in 2008, followed mere days later by the sale of a second book. Both books were the first of a series.  I was thrilled, to say the least.  My publishers, both (then related) small presses, had great reputations, and I couldn't wait to work with them.
One of those books was Princess of Light, first in my Heirs of a Broken Land trilogy. I sold it with the synopses for the next two books (which I kinda-not-really followed in the actual drafting).  The agreement was that each book would come out within six months of each other, starting in March 2009. That basically meant that my next year was dedicated to these books. Drafting, rewriting, editing, reviewing final proofs from my publisher, all while maintaining a day job and paying my bills.  I'll admit – quite a few other things dropped from my plate then. Hobbies that weren't writing related, friends (most of whom I rediscovered after the madness ended), TV shows, cooking… You know, life.  
It was a mad rush and I loved it.  I lost myself in the Heirs of a Broken Land for a whole year, getting the last two books drafted while bringing all three to print-ready volumes. I lived, breathed and dreamed those books, and because of that, they possess a raw energy that I would now find difficult to reproduce. They're better for it.
After the last volume, Sorceress of Shadows, came out in March 2010, it was time for my other book, Destiny's Blood, to release in October 2010 (thank goodness for differing production schedules!). Final edits were sent in (I'd done requested structural edits already, among all the insanity of the Heirs).  Oh, did I mention all the media work, books launches, website work, etc. that goes with three released books in a year?
Destiny's Blood wasn't even out yet when my wonderfully story-driven and perceptive editor, Gabrielle Harbowy, asked for two more books in the Destiny series.
No problem, I thought.  I've done this before. With much shorter timelines.
Except, when I came to write it, I blocked. I thought at first it was the story. I hadn't anticipated returning to the world of Destiny, though I loved the ship and characters very much. But I couldn't get it to gel. Getting my butt in chair was nearly impossible. Words came out like razor blades – painful, and they left me wounded and a bit on the bitchy side.
It took me a while to realize that I'd burnt out. That the mad dash of Heirs had left my words clunky and my mind tired. Both were now blunted.
I tried to work through it, I really did. I had to inform my editor that I wouldn't make my deadline for Destiny's Fall, the second book in the series.   My pride has yet to recover.
I decided I'd take a weekend away at a convent, in a quiet solitary retreat, to work on it. Get maybe another 10,000 words, which might bring me halfway. I wasn't ready for the silence and being alone with my story. I wasn't even willing. I was just desperate and tired.  I enjoyed a (rare, thank you) meltdown that first night and went home.
Obviously, trying to force the story wasn't working out.  
I took some time to myself. I spoke with other writers. I read books on writing. I read good fiction and got excited about story again. I let myself become immersed in someone else's world, with no expectations.  I rediscovered what I loved about story. How it provides guidelines and inspiration for our own lives. Something to strive for.
After a summer of recharging, I went back to the convent, feeling refreshed and ready to tackle a new challenge.  I thought I'd get 10,000 words down.  But I'd refilled my story well so effectively that as soon as I opened the floodgates, I couldn't stop writing. In three fantastic, crazy days, I wrote 45,000 words. I don't think my fingers stopped. I don't believe I slept. I just wrote. I let the story carry me.
I learned that refilling my story well regularly is necessary. See pretty things, do stuff I like, talk to friends and read good books.  Whatever you need to keep the thoughts inside you fluid, and to keep the words flowing.  
It's worth it.  The burn out and the dry well are like razor blades – it's to all our advantages to avoid bleeding out.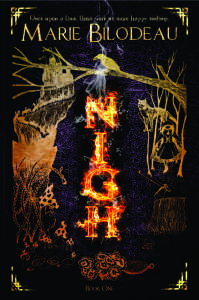 Guest Writer Bio:
Marie Bilodeau is an Ottawa-based storyteller and science-fiction/fantasy writer.  Her writings have been nominated four times for Canada's biggest SF award, the Aurora Awards.  Her new dark fantasy series, Nigh, is slotted to be released this November.  She's told stories across Canada in theatre houses, tea shops, bars and under disco balls.  Find out more about Marie, her writings and upcoming shows at www.mariebilodeau.com.