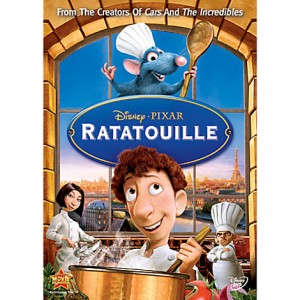 If you're going to name a food, you should give it a name that sounds delicious. Ratatouille doesn't sound delicious. It sounds like "rat" and "patootie". Rat patootie. Which does not sound delicious. (Linguine talking to Chef Skinner)
Aye, that's the secret of success for the movie Ratatouille. Something ordinary, something that doesn't sound delicious is made special, quintessential in fact,  through its treatment. This ordinary dish, with extraordinary treatment saves the day for our heroes. And it is this simple story, with its simple theme and simple circumstance, with attention to detail and character which makes an ordinary tale an extraordinary one.
Dear, sweet, innocent Remy is an ordinary rat with an extraordinary dream and a talent that only he believes in. As many writers and artists know, there's a little Remy in all of us for coming of age isn't just about teenagers – it's about all who struggle to follow their hearts when no one else sees, let alone believes in the dream. This is the life lesson in Ratatouille and it is one which has been told countless times in books and movies but never as poignantly or memorably. Released in 2007, Pixar's eighth film it grossed $623M, won an Academy Award for Best Animated Feature and garnered other honours.
What makes this movie it so appealing? It is its ability to take the ordinary and make it extraordinary. It does this in terms of craft and emotional appeal. It's a simple coming of age story told well with setbacks, physically dangerous moments (shotguns, sewer rapids, poison), emotional highs and lows and quintessential characters who aren't overdone. Take the "bad guy' Chef Skinner. He's not an evil monster, just someone who has perverted Chef Gusteau's dream for his own dreams of wealth. Emotionally, Remy's passion to cook is something we can all relate to on a very basic level (we all like to eat) unlike fanciful dreams of having super strength, special powers or conquering evil demons. We all aspire to live our simple dreams, to have our talents grow so we can live them fully.
We are told that what seems extraordinary really is ordinary and the dream is within everyone's reach. This happens when Colette tells Linguine, the garbage boy turned Chef with Remy's help, that "People think haute cuisine is snooty. So chef must also be snooty. But not so." She then gives Linguine the sordid bios of everyone cooking in the kitchen.
The movie also gives the option for settling – subverting the dream to do what others find acceptable. When his keen sense of smell saves his father from eating poisoned food, his talent is used sniff-check all food for poison before the pack eats it. Remy is now destined to suppress his desire to become a chef and to do work that benefits the pack. But settling isn't an option when passions are followed and that's when break out moments happen and that's when Pixar plays to our deepest fears of rejection.
Unable to still his passion, Remy finds a piece of cheese and tries to cook it but he's struck by lightning. Now, he needs some saffron and he knows it's in the old woman's house. While there, we learn that he reads and watches TV, something that rats don't do. When the old woman she sees him, she grabs her shotgun and in the ensuing melee shoots down the roof, revealing the rat colony. In the ensuing escape, Remy is separated from his family. This is the ultimate break out point – alone, separated from his family emotionally and physically by his passion. Yet, this isn't the only break out moment. The others happen when Remy and later when Linguine risk everything when they reveal themselves and share their secrets. Remy makes himself known in Chef Gusteau's kitchen and is nearly drowned for it. Linguine reveals that he isn't a chef, Remy the rat is and he loses his staff. Linguine and Remy reveal themselves to the food critic at the risk of losing all.
And though these trials and tribulations, the recipe for success is given for life and for the artist. When Colette is teaching Linguine about working in the kitchen, she tells him the golden rule: It was Chef Gusteau's job to have something unexpected in every dish but it is their job to follow the recipe. That is the lesson every writer is told – learn the rules, master them and then only break them when you know what you're doing and why. Incompetent Linguine can barely follow a recipe and is destined for disaster when Chef Skinner has Linguine cook Chef Gusteau's worst dish ever. But it's his mentor, Remy, who has studied food forever, who saves the day by breaking Colette's golden rule.
Ratatouille is a beautiful movie that appeals to people of all ages, all walks of life and to everyone with a desire to follow a dream. It is a movie where the glamorous is made ordinary (French haute cuisine) and the ordinary is made glamorous (ratatouille, an ordinary stew becomes a signature dish) as the downtrodden (rat and orphan garbage boy) succeed. And it does this with grace, humour and wit without skirting the consequences of the journey.
When we make the ordinary extraordinary we indeed are masters of our craft.