Guest Post by Aubrie L. Nixon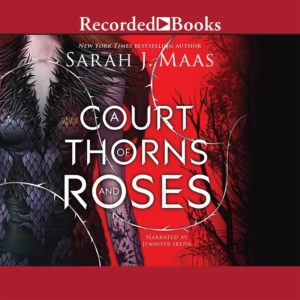 Let's talk adaptions shall we? We all know what adaptions are, a retelling of sorts of a classic story. There are thousands, some are good…fantastic even. Others…not so much. If any of you know me, you know that my go-to story is ALWAYS Beauty and the Beast. Call me a sucker for romance, giant libraries, or broody heroes, I don't care. Beauty and the Beast is, and will always be my favorite classic story. The wonderful thing about having it as a favorite, many other authors, film makers and story tellers love it too.
I have seen countless live action adaptions of Beauty and the Beast, and none have ever come close to the classic Disney animation film. That being said, the Disney film is well…Disney. Which means its very much a toned down, light hearted film. Another thing about me is that I like dark, gritty and tragic stories. So while I LOVE the Disney film, I crave other versions. I have read my fair share of Beauty and the Beast retellings, and I can say without a doubt, some are considered my favorite books of all time.
Let me start with A Court of Thorns and Roses By Sarah J Maas. While this beautiful, beautiful book is a retelling, it goes in such a completely different direction, that I don't think I will ever look at Beauty and the Beast the same. There are sexy Fae warriors, a curse on a broody hero, an artsy heroine trapped with our hero, and a luscious and deadly villain. It is in fact, my favorite story of all time. This beautiful version of Beauty and the Beast works because it is enough of the classic tale, that you think you know the story-line, but Maas takes other worldly elements and gives them a home in this superb story, making it so new and different. The ending had me in tears, and fearing what happened next. That..that is what makes a retelling work. Where you captivate your audience so deeply with a classic story, and add in enough of your own elements, that it feels familiar and different at the same time. If you can do that, you can do anything. Successful adaptions are hard to find, but when you do find one, grab it and never let go.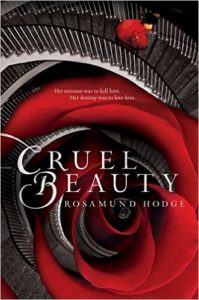 The second adaption that I am head over heels in love with is
Cruel Beauty by Rosamund Hodge. 
Cruel Beauty cast such a dark spell over me, with its intrigue and deadly mysteries that I finished it within one sitting. I could not put it down. It worked because again, it was so beautifully different that it felt like a whole new story. Many times, I thought that I had it figures out, but when I turned the page, realized I was very much mistaken. The curse and the beast are so dark and tragically sad, that I was in tears by the end of the book. It was so different from anything I had ever read, even being a retelling. It was delightful.
Basically, as someone who loves to read YA (Young Adult) books, which tend to have similar troupes and similar characters, I appreciate twists and being surprised. These books will never leave me, ever. They are so romantic, dark, and delightful that they hardly get like retellings at all. Both authors have other retellings of sorts, Maas, for Hades and Persephone and Hodge for Little Red Riding Hood.
Do you have any favorite Beauty and the Beast retellings? If so, please do tell me, I would love to read them!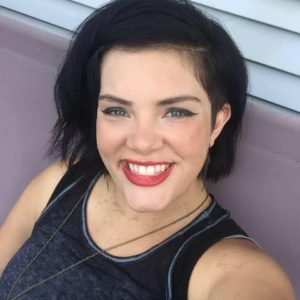 Aubrie is 24 years young. She plays mom to a cutest demon topside, and is married to the hottest man in the Air Force. When she isn't writing she is daydreaming about hot brooding anti-heroes and sassy heroines. She loves Dragon Age, rewatching Game of Thrones and reading all things fantasy. She runs a local YA/NA bookclub with 3 chapters, and over 200 members. Her favorite thing to do is eat, and her thighs thank her graciously for it. If she could have dinner with anyone living or dead it would be Alan Rickman because his voice is the sexiest sound on earth. He could read the dictionary and she would be enthralled. Her current mission in life is to collect creepy taxidermy animals because she finds them cute and hilarious. She resides just outside of Washington DC.
Preorder Aubrie's debut novel DARKNESS WHISPERS, here.