A Guest Post by Matthew Becket
Warning: This post is not a safe alternative to nicotine.
Guilty pleasures. I have two of them while watching TV, the unrelated duo are scifi/horror anthologies and infomercials. This time we'll focus on the first thing. I'll share my thoughts on the Ninja Blender and that wacky garden hose you can fold up in your pocket for another entry.
Give me the grit, give me those low budget masterpieces from the eighties, then sit my happy little bum in front of the TV and I won't make any noise but laughter for a good ten hours. I see through the camp and I imagine the script, but more importantly the script writer. I visualize the poor bastard pounding out his manuscript on a tight deadline and an even tighter budget just to give me and my comrades (assuming I'm not alone in this) an irremovable smile. But here's a question—Is this good writing?
I want to say "no" right off the bat. I should, but I can't, not completely. All these anthologies (by the way, I'm mostly referring to Tales From the Darkside and Monsters, two gems from the eighties that I cannot part with) have a Grandaddy, a Master, an I'm-way-better-than-you prototype. I only need to say three words – if I'm lucky it may even make you tingle when you read them. You may even hear a certain song.
The Twilight Zone.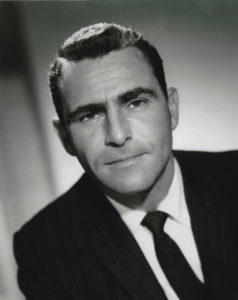 Rod Serling. Rod Serling. Rod Serling. The man almost wants me to take up smoking. He held that lit thing in his hand and bravely gave the intro to each and every original episode. And did you know he wrote ninety-two? Yep that's right, ninety-two of the one hundred fifty-six episodes were written by Mr. Serling. I've read a few in script form, but also as short stories—they're beautiful. I have a tiny area of bookshelf space dedicated to things relating to The Twilight Zone. The stories and TV show age quite well. Not bad story writing. NOT guilty pleasure.
I do have a tinge of jealousy. Jealous of Serling? Sure, I can only aspire, but no, I'm talking about that generation of Baby Boomers who saw the images glow on their black and white screens for the first time. No VCRs, no DVRs, no DVDs (I officially despise acronyms after writing this) only magic! A special Serling sort of magic served with nicotine and sometimes Shatner. A journey into a dimension that made your senses feel puny. Four dimensions were not enough for Serling. If you hopped into his small black TV-shaped vehicle for a ride you signed a contract to breach this plane—an invitation to Heaven, Hell, and all the junk in between. These were bold messages that often were only found in the quirky comic books of the day. Some episodes still scare the hell out of me. Some give me a near Bradbury-ish nostalgic hug. They all make me smile.
Why does it work so well? I think (I may be wrong) it's utter expectation. Serling gives us a promise every episode. He promises to take us to a weird place. He makes good on his promises.
It sounds simple, but that is a common problem with new writers. In fact, I'm struggling with it right now. I first have to ask myself, "Shit! Does this story even make a promise?" But the paranoid state is good for a writer, or so I hear. Master storytellers like Serling have laid certain foundations and have shown us that these seeds of expectation work. They make the reader feel crafty as if they're in on the joke.
We don't need to stand in front of our reader, take a healthy drag off our cig, and give a two paragraph soliloquy just before they start on the first line. (Although let's face it, that would be cool as hell). However, we can present it in the prose just as we've been taught. Promises, expectations, whatever you want to call them they need to be there for the reader. When the promise has been met then we are one step closer to resonance. This is what we want, fellow writers!! We can hear "that was clever", "you're so funny", "beautiful writing" and those are great compliments, but if someone looks you in the eye and says, "that thing in your book resonated with me" in so many words or less – you wrote something Serling might like. I, as you do, very much want to be "might liked" by Serling.
Picture if you will, finding a promise and making good on it. It's somewhere out there in the ether we call—The Twilight Zone.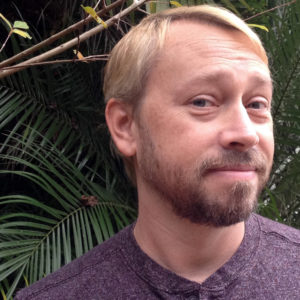 Matthew started lying as soon as he could talk. Thrilled with the reaction he received, he started making the lies bigger. Some of the lies he had kicked around for years became commodiously appropriate for the written word. Matthew has fun lying in the Middle Grade genre, but lately has been taking on the Adult Dark Humor Crime Thriller genre. He is currently working on his novel – The Sommelier.
When not lying, he is usually traveling, or hanging out with his wife and three cats in Celebration, Florida while looking up words like "commodious" on thesaurus.com .
Where do I find this guy?
Facebook: https://www.facebook.com/matthewdavidbecketauthor/?ref=hl
Twitter: https://twitter.com/MatthewBecket
Wattpad: https://www.wattpad.com/user/MatthewBecket