A guest post by Marie Bilodeau.
Your new book is about to be released – yay! Give yourself a pat on the back, drink your celebratory drink of choice, eat some chocolate and then start thinking about next steps: promotion. Part of that promotional package includes a book launch, and planning could make all the difference. Here are a few things to think about (I like lists):
Timing
What else is coming out or happening in your launch city? For example, Karen Dudley, who writes funny as all get out historical fantasy set in Greece is planning her next launch in Ottawa during the same week as a full retelling of The Iliad at the National Arts Centre. Weather can play havoc with a launch, too. Not much you can control on that end, but something to keep in mind for outdoor and/or winter launches.
What you want attendees to say: My, that was a lovely, perfectly timed book release at which I purchased ten copies in celebration of the perfect timing.
What you DON'T want attendees to say: I don't know why they released their Book of Love during the Annual Ninjas Attack Day. Dude, is that a throwing star sticking out of your head?
Venues
A restaurant, bar or coffee shop can be great venues so people can get their own drinks and food (keep your budget in mind!). All the better if you can get a private room or area – reading in an active spot can be tough. Independent bookstores also make great venues. I usually go for a bar, but my books lend themselves well to that atmosphere. Don't get a venue that's much bigger than your lowest anticipated turnout, or it'll feel empty.
What you want attendees to say: Wow, that author is really popular. That venue was full/bursting at the seams/Godzilla-destroyed worthy (avoid that last one when at all possible).
What you DON'T want attendees to say: I heard crickets and joined their song of despair.
Food
If you do get a venue where you can buy/bring food, try to bring something appropriately themed. Mystery author Peggy Blair invited friends to bring a Cuban-inspired dish to go with her latest release of her Cuban-inspired mystery, The Poisoned Pawn. It definitely added flair to the event.
What you want attendees to say: That was a perfect seasoned drumstick to go with the release of When Good Chickens Attack.
What you DON'T want attendees to say: That cyanide wasn't real, right? (Tempting for mystery authors, I know. This is why I put this example in.)
Promotional Items
At my first book launch, a friend made me these awesome coasters since it took place in a bar, and attendees loved them. Make sure to at least have bookmarks. Bookmarks are cheap and easy to share, and hopefully generate more book sales.
What you want attendees to say: Ninja stars are a wonderful accompaniment to my Book of Ninja Love.
What you DON'T want attendees to say (to their therapists): It was a book on the history of arachnophobia, and they handed us live tarantulas. TARANTULAS!! WHY!!!!
Spread the word!
Facebook Events are popular. Post the event in relevant, interested groups, as well (with permission from the moderator). Don't forget to blog about it if you blog, and update your website (if you don't have a website, read this post by Alice Black right now). Posters in the venue sometimes generate extra sales, and send out a well-crafted press release to local media.
What you want attendees to say: I believe I'll attend this book launch.
What you DON'T want everyone else to say: Book launch?
Reading
You've found the perfect venue, timed your event, invited everyone. Now, turn toward the flow of the event. Usually there's a reading. Get a microphone if you need one. Select a great portion of your story – you don't have to read the first chapter. Pick a scene you love to read and that works as a hook. Practice reading before the launch. Remember to speak up, to pace yourself and to look up at your audience once in a while.
What you want attendees to say: I'm moved. I shall purchase every copy of this book, for I must share it with the world.
What you DON'T want attendees to say: WTF? Was that the end?
Get help
The worse thing that can happen at a book launch is not the lack of food or drink, it's not the imperfect venue, nor the accidentally double-booked room. Rather, it's a frazzled author. People can forgive things going wrong (to a certain extent). But if you're a crappy host, they won't forget that. Remember, these people are there to support you. So get the help you need with the details in order to ensure you can focus on what's most important: your readers.
What you want attendees to say: The author was so charming I shall name my first child after him/her.
What you DON'T want attendees to say: I shall never again speak their name, no matter that my child is named the same. From now on, you shall be known as Child-of-Mine.
Expectations
I kept the most important for last. Keep your expectations realistic. How many people do you think you can get out in your hometown? Think of the max, and then halve that number. Keep your expectations low and be surprised if numbers surpass them. Launches in other towns are tough. How well known are you? How well do your books sell there? Can a bookstore or a group of friends help with promotion? If you're not sure, don't overstretch. A good hometown launch will go a long way and save you monies, especially if your publisher can't afford to send you around the country. Keep it real and adapt for the next book, since you'll have many in your fine career.
What you want to say: I had fun. This was great. I'd do it again.
What you DON'T want attendees to say: I'm never writing another word ever again because nobody cares or eats my cheese balls.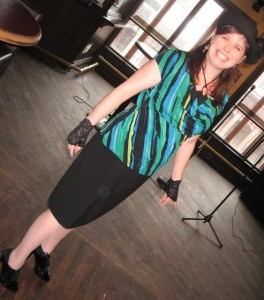 Guest Writer Bio:
Marie Bilodeau's space opera series, Destiny, was a two-time finalist in the Aurora Awards and won the Bronze Medal for Science-Fiction in the Foreword Book Awards. She is also the author of the Heirs of a Broken Land, a fantasy trilogy described as "fresh and exciting" by Robert J. Sawyer, Hugo award-winning author of WAKE. Her short stories have appeared in several magazines and anthologies and have also been nominated twice for the Aurora Awards. Marie is also a professional storyteller, telling adaptations of fairy tales and myths, as well as original stories of her own creation. She's a passionate advocate for paper airplane contests, peach desserts and caffeine consumption.