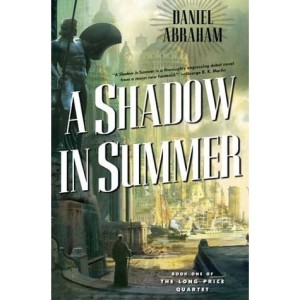 Quick, name one aspect of life you almost never see dealt with in epic fantasy! Did you say "economics"? No? I don't blame you. Like many, my eyes tend to glaze over when talk of money or economics starts up. Still, when you get right down to it, money  makes the world go around in many ways. So it's kind of odd it almost never gets dealt with in a serious way in fantasy. The hero either has a handful of coppers in his or her pocket or doesn't, and little thought is given toward where the money comes from in a larger sense. And be honest; most people gifted with magical might would neither save nor conquer the world, but would instead use said power to make crazy money.
My friends, let me introduce you to the writings of Daniel Abraham. Maybe you've already heard of him through his epic fantasy series The Dagger and the Coin or his work as one half of James S.A. Corey in writing The Expanse. He's even got a television show in production for that one. But I'm willing to bet even some of his newer fans haven't checked out his first epic fantasy series, the tragically underrated The Long Price Quartet.
The Long Price Quartet was the first epic fantasy series I ever read that seriously dealt with economics. The second-world fantasy series features a magic system where poet-sorcerers are able to hold perfectly-formed ideas in their minds, breathing life into creatures called andats. Each andat has fantastical powers based upon the idea it represents, and the city states that employ the poets use the andats to retain an economic advantage over any rivals.
Need an example? In A Shadow in Summer, the first volume of the quartet, the poet Heshai controls the andat called Removing-the-part-that-continues ("Seedless" for short). Seedless is used to remove seeds from cotton on a grand scale for the city-state of Saraykeht.
It's not as simple as that, though. The andats do not want to exist, preferring the abstractness of thought to existence in a concrete reality. If a poet tries to capture one and fail, he or she dies. And even if they are successful, they are bound for life to a creature that wants nothing more than to cease existing. Hence poet and andat are locked in constant mental struggle. Should the poet ever lose the thread of the thought that makes up the andat or die without passing that idea to another poet, the andat vanishes. And any given andat can only be captured once.
The power Seedless wields over cotton is great for Saraykeht. The only trouble is other nations grow cotton too, and there is only one Seedless. Jealous rivals will stop at nothing to remove the advantages an andat provides. But they dare not act openly, because removing seeds from cotton is not all that Seedless can do…
The books of Long Price are a slower read than some. In addition to an interest in economics that carries through to his other writing, Abraham eschews a lot of epic fantasy staples like large-scale battles. Instead he focuses more on intrigue and the human side of conflict. His prose is spare but efficient and filled with evocative imagery, and his books have absolutely no bloat, which will be a relief to many. I remember reading Long Price and thinking that I'd never read anything quite like it before. It immediately made Abraham a must-read author for me and reading his work has taught me a lot about my own writing as well.
So maybe you've heard of this Daniel Abraham guy. If you have, but have only read his later Dagger and Coin or his Expanse sci-fi collaboration with Ty Franck, do yourself a favor and pick up A Shadow in Summer*. And if you've never read Daniel Abraham, do yourself a favor and jump on the bandwagon of one of the industry's rising stars.
*Note: The books of Long Price can be purchased individually or you can buy the series in two halves. A Shadow in Summer and A Betrayal in Winter have been merged into Shadow and Betrayal, while An Autumn War and The Price of Spring were merged into The Price of War.