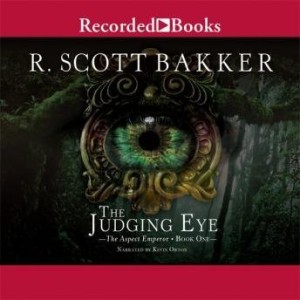 Consistency is one of the great universally desirable qualities. Think how many times in your life you've heard a variant on the phrase "pick an approach and be consistent." Your leadership style at work? Be consistent. Parenting? Be consistent. In your wacky fantasy world where swords use people as weapons in duels? Hey, as long as it's internally consistent, you can probably make it work.
And there's one law of writing consistency few will challenge, the consistency of tense within a given story. Whether an author prefers third or first person, multiple protagonists or just one, they will generally pick either present or past tense and stick with it. And it makes sense to do so. The story's tense is one of those bedrock elements of a story, so integral that people won't even notice when it is done properly. But have you ever seen a piece of writing, maybe at work, where the author had trouble sticking to one tense? It's jarring, right? It screams "bad writing" at you in every way.
But there are ways to make a tense switch work, particularly when your goal is highlighting the inner world of a character. Sometimes you might want to jar the reader and force them to notice the scaffolding of words the story is built upon.
R. Scott Bakker writes primarily epic fantasy in the "grimdark" model. His major work, The Second Apocalypse, is made up of a pair of trilogies, The Prince of Nothing and The Aspect Emperor. Early in The Judging Eye, volume one of The Aspect Emperor, a character named Mimara is introduced as a major POV. Mimara shares major POV duties with three other characters. But while the rest of the POVs (and all the POVs in the first trilogy) are told in past tense, Mimara's sections are relayed exclusively in present tense.
It's incredibly jarring the first time you encounter it, and I'll be honest when I say that I didn't like the choice initially. It made Mimara's sections seem as if they came from a different book entirely, which is the big danger in switching tense.
But the further into the series I've read, the more I like the decision. While all of Bakker's characters are haunted by tragic pasts, Mimara's story is singularly tragic. Sold into slavery as a child, Mimara spent most of her life utterly devoid of hope. Finally free from that slavery in the time of the books, she now does everything she can not to dwell in the past she's left behind. When I got to thinking about it that way, she was a character who'd never had a future and who dares not dwell in her past. Writing her in the present tense started to seem like the only thing that would make sense.
The choice gives Mimara's sections an immediacy the other POVs lack. She possesses a lifetime of hard-won instincts attuned to detect the slightest hints of danger, so she is constantly on the lookout for threats to her freedom. Present tense also serves to highlight the mental scarring her past has left her, giving her inner voice a frenzied quality lacked by the other POVs with their more stately past tense voice. Lastly, the choice serves to underline her inherent isolation. For when it turns out she possesses an ability unique in the series else she becomes a character even more apart from the world she lives in.
Whether or not all this was the author's mindset when he made the choice to go with present tense, I can't say. But it made me think more about the character and what he was trying to say about her, and so I would call the experiment a success.
It helps that the tense shift was used in a controlled fashion. There is no shifting of tense within the same Mimara's sections, and since the books are written in third-person limited, there is no shifting of POV within the same section. That's the internal consistency thing I mentioned back at the top of the post. This demonstrates to the reader that "hey, I'm not doing this because I don't know how to write, I'm doing this deliberately so maybe you should stop and consider why."
This example remains the exception and not the rule, and that's all to the good I think. Shifting tenses within stories remains a technique that should be approached with extreme care. There are more ways to do it wrong than right. But, handled properly, the shocking nature of the shift itself can be used to powerful effect.