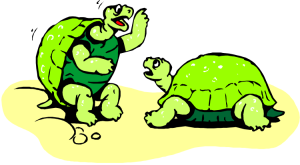 Rather than discuss what I would tell my earlier self, I decided to write about what I tell my children.
From age six to about nine or ten, I spent my days with two turtles, Sammy and Willy. They travelled the ocean stirring up trouble, then mystically transformed into astronaut bears who made it an effort to visit all the forests of the universe and then somehow mutated into aliens that went to scout camp. My friends grew as I grew and helped me experience fantastical adventures.
When I wasn't with my turtle-bear-alien friends, I explored the realms of Narnia and Middle Earth. I lived on a boxcar and ate fried worms. I travelled to Oz over and over again and eventually sailed with Captain Ahab.
I remember when I announced to my dad that I had discovered what I wanted to be when I grew up. I made my case:
–       I was good at writing
–       I loved it
–       Other people liked reading my stuff
–       And I was guaranteed to be successful because every book I had ever read was written by someone famous.
"Tell me one author that isn't famous?" I demanded. He didn't refute my claim, but persuaded me to go into the computer industry (we didn't call it IT back then). I didn't discuss my writer dream with others after that; I kept it tucked away in the back of my mind.
When I was a junior in high school, my papers were decorated in red with nice big Cs and Ds on top, quite the change from my sophomore year of A+s. From the encouragement of my tenth grade English teacher, I wrote more and took greater risks with my craft. My eleventh grade teacher didn't like my exploring beyond the lines. I know I deserved the negative marks; I misused semicolons and my vocabulary wasn't very strong, but the red ink didn't teach me why my sentence structure suffered or how to fix it, just that it wasn't good. During that year I slowly became disenfranchised with writing.
More than a decade passed. I didn't go into IT, but business. Occasionally I'd hear my turtle friends calling from the recesses of my mind, begging me to let them out to play. I'd entertain them every now and then, but mostly I told them that I was too busy.
Another decade passed. A friend of mine from high school (quite possibly in that same English class) had a book published. My turtle friends woke up. Then I heard that my neighbor had written a short story for an anthology. I asked her about it.
"Do you write?" she asked.
"I used to." Sort of. I want to. I really want to.
"If you're serious about it, you should come to Superstars."
My turtle friends begged to go and that was it. I was hooked, living my boyhood dream.
Since attending SWS, I've written a dozen short stories and one novel. I write everyday. I write a lot. I write to escape; I write to understand. I write for fun and for serious. But mostly I write to inspire.
A tribe helped free my turtles. I believe that It Takes a Tribe, to become a successful writer, as Nancy discussed earlier this month.
My son just turned nine. He's been writing since the age of six. He's fought dragons and explored alien worlds. He hangs out with friends known as the Knights of the Shadow Kingdom.
To him, I say, cheers. Write on my friend, write on.
Another son just started Junior High. He told me yesterday that he knows what he wants to be when he grows up—a photographer.
To him, I say, cheers. Let me know what I can do to help you. I believe in you.
Another son just started high school. Some of his teachers are "tough". He tells me that their teaching is "all wrong". We've explored his perception and identified that their teaching is—different.
To him, I say, cheers. Don't get discouraged because you don't understand. Fight to learn, fight to understand, and fight to be understood. And most of all, don't let anyone tell you that you can't do or be what you want. I'm here for you and support you. I know you can do it.
I think that the greatest thing we can do for young people is to get out of their way.
Unfortunately I can only go back in time in my stories. I would love to have not waited twenty years to do what I always wanted to do, but as the saying goes, it's better late than never. Cheers. Write on my friend.