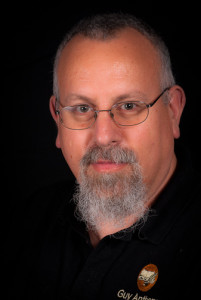 Guy Anthony De Marco is a speculative fiction author; a Graphic Novel Bram Stoker Award® finalist; a disabled US Navy veteran; winner of the HWA Silver Hammer Award; a prolific short story and flash fiction crafter; a novelist; an invisible man with superhero powers; a game writer (Sojourner Tales, Aftermarket D&D modules, Interface Zero 2.0 Core Team); and a coffee addict. One of these is false.
A writer since 1977, Guy is a member of the following organizations: SFWA, WWA, SFPA, IAMTW, ASCAP, RMFW, NCW, MWG, and HWA. He hopes to collect the rest of the letters of the alphabet one day. Additional information can be found at en.wikipedia.org/wiki/Guy_Anthony_De_Marco and his main author website, GuyAnthonyDeMarco.com.
Alumni, retired December 2017. Now an occasional guest poster.