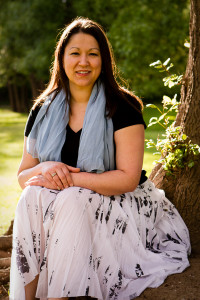 I've always been a storyteller — just ask my mother. Actually, no. Don't. She knows too much. Anyway…I write fantasy, sci-fi, thrillers, and YA, as well as a bit of horror, mystery, and poetry because I acquire genres like a crazy cat lady collects strays. (The stories are so fuzzy and adorable! I can't turn them away!)
I live in Oregon and work at an independant bookstore. I'm a retired stage actor, though I will occasionally return for one of my bucket list roles. I have a penchant for fast cars, high heels, and loose screws.
You can find me here: blog, Google +. You can find my work in Fiction River: Pulse Pounders — special Kobo edition, Fiction River: Alchemy and Steam, Fiction River: Sparks, Fiction River: Tavern Tales, Fiction River: No Humans Allowed (forthcoming), Monster Hunter International anthology (forthcoming), and the Eclipse Phase: After the Fall anthology. My debut novel, The Moonflower, is available on Amazon, iBooks, Kobo, Nook, as well as select bookstores. The Moonflower is a 2017 Whitney Award Nominee.