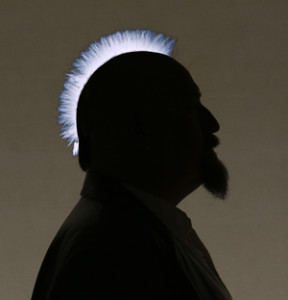 At an early age Quincy had the intention of becoming an author.  Unfortunately, he was waylaid by bandits armed with the age-old adage, "So you wanna be a starving artist the rest of your life?"  As a result he ended up a slave to the IT grind for seventeen years, maintaining his sanity with motorcycles and music.
Well into a mid-life career change, he's been published in multiple anthologies, online and print magazines as well as one omnibus. His steampunk version of Steampelstiltskin is under contract with Fairy Punk Studios, and he's written for the Internet radio show RadioSteam.  His novel Chemical Burn—a finalist in the Rocky Mountain Writers Association Colorado Gold Writing Contest—was first published in June of 2012.  His new novel Jake Lasater: Blood Curse, is currently being shopped around, and he's started work on a new off-world steampunk series titled Paragon.  He works part-time as a tech-writer to pay his bills, does book design and eBook conversions for Word Fire Press (Kevin J. Anderson), and lives in a lovely house that he considers his very own sanctuary.
He's working the convention circuit when time permits, with regular appearances at CoSine, AnomalyCon, OsFest and MileHiCon, as well as a few book signings along the way.  Basically, he's an all-too-busy writer and homebody.
Other Titles
Penny Dread Tales: Volume I
Steampunk Short Fiction
It Lives: Volume One
Short Science Fiction
The Scribing Ibis: An Anthology of Pagan Fiction in Honor of Thoth
Short Science Fiction
Spirit Legends: Of Ghosts and Gods
Short Paranormal Fiction
Best Served Cold: Volume One
Short Science Fiction
Penny Dread Tales: Volume II
Short Steampunk Fiction
Chemical Burn
Contemporary Detective Science Fiction Novel
Tales of the Talisman
Short Science Fiction
The Shining Cities: An Anthology of Pagan Science Fiction
Short Pagan Steampunk Fantasy Fiction
Eternal Haunted Summer
Short Pagan Steampunk Fantasy Fiction
Penny Dread Tales: Volume III
Short Crossover Steampunk Fiction: The Wrath of Caan
Seven Dwarf Stories
Short Crossover Steampunk Fiction