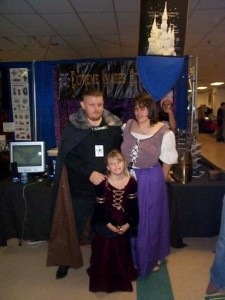 R. W. Ware is published pseudonymously under R. W. Ware for flash fiction.  He has been writing ever since he read his first Conan the Barbarian pastiche in the early 80s. The works of Stephen King, Dean R. Koontz, John Saul, Robert R. McCammon, Robert E. Howard, H. P. Lovecraft, Steve Perry, Kevin J. Anderson, Robert Lumley, J. R. R. Tolkien, George R. R. Martin, Edgar Rice Burroughs, Robin Hobb, Orson Scott Card, Frank Herbert, Brian Herbert, Bernard Cornwell, Robyn Young, Conn Iggulden, David Gemmell, Harper Lee, Michael Moorcock, Homer, Neil Gaiman, Robert A. Heinlein, Clive Barker, Stephen Pressfield, Clive Cussler, John Sandford and a host of others fed his mind and expanded his dreams, nightmares and passion for characters and their stories.
He's written several novels that taught him he had to hone his craft, and has been endeavoring to that end on his own and with selected coauthors over the last couple of years. Sometimes short stories will pull him aside until he writes "The End" on them, but his true passion is for long fiction. With beginnings in Sword and Sorcery, Horror, High Fantasy and Science Fiction, his natural instinct is a combination of genres with antiheroes or redemption themes. He also loves Post Apocalyptic scenarios.
While not writing, R. W. Ware is a custom tattoo artist, working closely with his patrons to develop their ideas into award winning body art. The experience has given him a decidedly cynical outlook, but a plethora of characters and personalities. He is an honored guest at local conventions, and dedicated to producing the best possible work for the the client and the body part on which he is working. This is a theory that is bleeding over into his writing.
A chance meeting with Kevin J. Anderson – one of his favorite authors for such works as Captain Nemo, The Saga of the Seven Suns, and the Dune prequels with Brian Herbert – led to him doing a pair of maps for Kevin's only fantasy trilogy Terra Incognita: The Map of All Things and Terra Incognita: The Key to Creation. He was also privileged to contribute two paintings for the progressive rock album Terra Incognita: A Line in the Sand, which ties to the story.
He lives in Maine with his wife, two sons and daughter.
R. W. Ware can be found online: