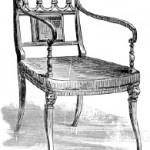 The human brain can only retain so much information; real estate in there is limited. One of the purposes of our minds is to condense that information to a manageable level. This is done through the formation of concepts, the most abstract of which are like skyscrapers on that limited real estate.
When using your mind to create these concepts (i.e. thinking), you are combining two or more objects or concepts (chair and table) into a higher-level concept (furniture). This new concept in effect gives you information about a potentially infinite amount of chair- or table-like objects (that they have the qualities of furniture). This applies to anything else your mind deems worthy of being called furniture.
Why bring this up in a discussion about character?
I primarily write in the fantasy genre, which is known to suffer from a malady called the cast of thousands, which is exactly what it sounds like. In order to achieve the epic scope they desire, some authors create many cultures and lands and people them accordingly. Some of the better writers attempt to alleviate this problem through masterful characterization and differentiation, but the problem remains: the human brain can only retain so much information.
It's happened to everyone I know (myself included) who reads fantasy, especially the doorstoppers. We come across a character, and the name seems vaguely familiar, but we just cannot remember who that character is. We either figure out who the character is by the context, just ignore him, or treat him as a completely brand new character, history forgotten. None of these is ideal for a writer trying to tell a coherent story with a powerful emotional impact.
One solution to this problem is the very same process that you've used your whole life to make sense of the real world: combining lower-level units into higher-level abstractions.
Let's say you have a character who is a policeman. Then, later on, you decide you also want to include a serial killer in your story. Nearly opposites, to be sure, but what if you combined these characters? A serial killer that is also a cop? Such a character already exists: Dexter, from the popular show of the same name. One of the hallmarks of both the book series and the show is how complex and interesting the main character is.
Of course, it's easy just to smash two characters together and call it a day. But, like forming real concepts, it has to make sense (or rather, you have to make it make sense, since you are the one creating the character). You would never subsume chainsaw under the concept furniture. Also, the concept needs to have something essential about it that justifies its existence. The concept furniture tells us more about the world than just knowing about tables and chairs. The same must be true of the character. That essential attribute is that character's identity, which in fiction usually boils down to his motivations, his personality, his beliefs, his psychology, etc.
In the example above, that identifying attribute could be Dexter's homicidal urges as framed by his strange moral code.
Some of the immediate advantages of doing this should be obvious. First of all, your readers know who all of the characters are. But also, those two characters, who were perhaps a little flat to begin with, become three-dimensional when combined into one (if handled properly). This leads to deeper, more thoughtful fiction. Remember when I said that thought is concept formation? That's why: the reader actually engages in that process when coming across characters like this.
Of course, this applies to other aspects of fiction as well, such as worldbuilding. So, take pity on your poor, confused readers and please, please economize your characters. Not only will they enjoy your stories more, but you'll have made them feel smarter by the end, and that is always a good thing.