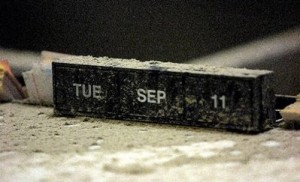 This isn't the blog post I set out to write.  We aspire to be a blog for writers dealing with the business and/or process of writing.  Sometimes though, writing is about more than the characters and the plot.  Sometimes, it can be about real life, even when everyone in the story is wearing armor and carrying swords.
I'm sure I'm not alone when I say I've spent a fair amount of time the past few days watching documentaries about the 9/11 terrorist attacks.  To the majority of Americans – indeed even a great number of world citizens – it is the single most historically significant event to take place within the span of our lives.
We can all remember where we were when we first heard the news.  We've all seen the haunting images of the senseless violence.  It was impossible to not be affected in some way emotionally by the events of that day.
Is it no wonder those emotions would find their way into my writing?
In the days and weeks directly after the attacks, I was surprised to see just how affected my writing became.  I was in grad school for screenwriting at the time.  Like many people I knew, I was angry, and the scripts I wrote during that period reflected that.  Loss and vengeance appeared frequently.
But, what became apparent while revisiting the footage these past few days, is how certain images and themes found their way into my fantasy years later.  The story I'm currently working on takes place partly in a desert city.  The desert itself is comprised of fine, gray dust and littered with teetering towers of obsidian.  When I was worldbuilding, I didn't consciously draw upon images from 9/11, and yet this is just one of many that has manifested in my writing.
It seems only natural.
To write is to express emotion.  Just because we write speculative fiction doesn't mean that, in some way, we're not using it to look at relevant issues of our own time.  To dissect them.  To find out what motivates some people to do unspeakable things.  Perhaps, on some level, to find reasons to sympathize with those people, to understand them.  Or perhaps to live vicariously through the hero, thwarting the enemy's plan in the eleventh hour and saving the day.
Sometimes, however, we write simply to cope.