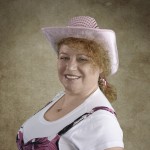 What do we all need at the beginning of a New Year? What else, but a calendar! And what could be better than a calendar featuring the amazing artwork of Dan dos Santos as seen on Gini Koch's sci-fi romance Alien Series covers.
Enter our latest drawing to win this 2012 calendar plus a copy of her latest book, released December 2011, Alien Proliferation.
Want more than one entry? Post a link to the Fictorians blog on your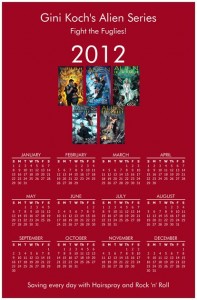 facebook page or your own blog, or tweet the details of our contest. If you do any of these things, leave the details (including your web address and twitter handle) with your comment. There's a maximum of 4 entries per person (one for each method of entry). Leave a comment  telling us in 25 words or less who your favorite book character is and why. See our examples below.
If you're not yet familiar with the series, but would like to be, then just say so or make something up. It's all good. Just make sure you let us know, and let me know you'd rather have the first book in the series rather than the fourth.
Entries will be accepted until 9pm PST on Friday, 30 December.  We'll announce the winner on January 6th, and send the prize the same day. Is the whole contest too spread out? A bit. But hey, it's the holidays. Cut me some slack, here.
Oh, and those examples; here's Gini's comment on her favorite hunk in the series. "I go for Martini, of course, because he's pretty much the perfect man — intelligent, handsome, caring, brave, understanding, sensitive, but willing and able to kick butt as needed. However, I also go for Chuckie. Because he's the same, with extras on intelligent. Sure, he's not A-C handsome, but he's still hot for a human, and he has all the rest of Martini's qualities, including being sensitive and caring, without being empathically talented. Chuckie is the epitome of every nerd guy who's made good. I don't know that Martini could exist in the real world, but I know Chuckie can and does."
Of slightly less interest…okay, maybe of much less interest, here's mine: I go for Chuckie, too, but Gini pretty much summed up the reasons why, so I'm going to take a slightly different direction. My second-favorite character was the poofs. Yeah, they're cute, cuddly, etc….but they turn into vicious, uber-doberman-type, guard-bears. What could be cooler than that? I want a gray one with black spots and I'll name her Frill.
It's that easy. Let us know what you think; fb, blog and twitter the contest location to others; and win a calendar and a free book. You can buy Gini's books at Barnes and Noble,  Amazon, Mysterious Galaxy or your local bookseller.