You can't celebrate what hasn't been done.
We all have dreams – to write well, to be published, to have an awesome web presence, to reach and engage readers – that's what our lives are about. How do we achieve those dreams? One step at a time by making a plan, setting goals and executing them. And sometimes, you do it with a little help from your friends.
When the Fictorian bloggers first discovered each other at the Superstars Writing Seminar, we learned that we had the same dreams, one of which was to establish a web presence where we could blog, grow as writers, share information with other writers and reach our audience. Alone, the task was daunting; together we've created a dynamic presence with wide ranging topics and experiences.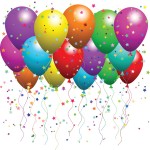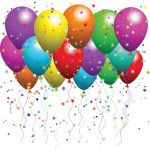 HAPPY 1st BIRTHDAY FICTORIANS
collectively we've achieved what we couldn't do alone
Our greatest MILESTONES:
*  we've become great friends who support each other through our ups and downs;
*  in our first year, we've posted  over 165 blogs on topics from craft, to the writing life, to understanding  the publishing industry; and
* superstar authors and industry professionals are blogging with us.
In his guest post, Brian Hades talked about the need for a virtual presence, how social media is like cocktail party and hiding in the corner means no one notices you. If you're unsure about etiquette rules at the social media party, check out Mignon Fogarty's post. At The Fictorian Era, we are hosting the party, inviting interesting guests, serving a buffet of tools for writers and most importantly, we're having fun doing it!
Why did we choose to host a party together rather than go it alone?
Because we knew that in the act of learning and supporting each other we would grow as writers, establish connections we couldn't do on our own and we'd have a supportive social media presence. One Fictorian summed up a common sentiment, Fictorians for me are amazing friendships formed from a common goal.  And it is an amazing alliance with bloggers and guest bloggers from the USA, Canada and Australia. Our broad backgrounds and experiences give our readers many perspectives on issues and varied content.
Most importantly, we've all had some special mentor or have read an awesome blog which has helped us in our writing journey. That's also why we're together – to give back what we've received. Helping others as we've been helped.
But really, it's fun to work with a group of dedicated writers who have a joint sense of purpose. That's the bottom line. We're together because we want to be.
Writing your novel or short story maybe a solitary endeavor but the writing life doesn't have to be. Form a writing support group or join one. Form a blogging group. Form a virtual support group which sets goals and challenges you to meet them. Do whatever you need to keep your writing career on track. We did. And now we're celebrating!
Happy writing everyone!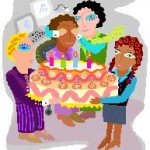 Hey, who ate my piece of cake?