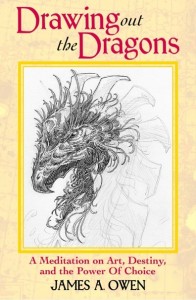 Want to win one of the LAST of the limited-edition hardcover copies of "Drawing out the Dragons," personally signed by James A. Owen? Post on twitter (#JAOfreebook), fb, in our comments section, or anyplace on the internet about someone/something that inspires you, mention James and this fictorians post, and let us know about it in our comments section. For each mention, we'll enter your name in the drawing. The winner will have their signed book shipped free of charge. We'll run the contest until midnight, Thursday Oct. 18th, and announce the winner Friday morning, Oct. 19th. Play today, and tell a friend. James Owen's book is for writers, artists, and anyone with a dream to achieve.  It even saves lives.
One of my greatest inspirations was my older brother. It may sound cliche, but the situation won't. At the spurring of his wife, my brother earned a degree in accounting. He hated it, didn't earn his CPA, and after a year teaching in a small high school in Northern Arizona, he divorced, started working construction to pay the bills, and remarried. As their kids grew older, his wife suggested it was time to pursue a job he liked. She worked extra hours so he could enter a training program, and he now works as a helicopter mechanic. In his forties, he made a complete career shift and he loves his job. It was his dream.
Sometimes, we think achieving our dreams means a big paycheck, a prestigious academic piece of paper, or celebrity status, but I don't think that's the point. Achieving our dreams is working our butts off so we can do what we love.  I like the part in Disney's motion picture, "Tangled",  where they sing about having a dream, especially the really big guy who wants to collect miniature unicorns. That seems simple and pointless to some, but the point is, there's no dream too big or too small, every dream is individual, and we're never too old to engage in its pursuit.Your dream is not mine, but we gather here at fictorians because we have similar dreams–we want to write. Our goals may be different in what we want to achieve with that writing, but the story drives us. I once expressed the great sense of belonging I feel at writing conventions. James Owen smiled at me and said with absolute understanding, "You've found your tribe."
Yes, among you, my friends, I have found my tribe. Thank you. Now, go forth and fulfill your dreams for good, whatever they may be.