Guest Post by Kim May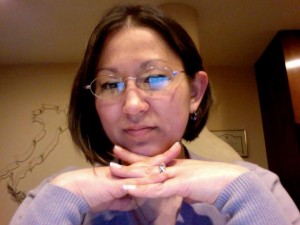 What do Robert Ludlum, Vince Flynn, Kathy Reichs, and Michael Jackson have in common?
Thriller.
The thriller genre has a fount of wisdom and literary tricks just waiting to be tapped. So, why are thrillers so popular? Besides being fast-paced, they're, well… thrilling. They often involve occupations we don't see on a daily basis. Intelligence agency operatives, the Secret Service, commandos (who are thankfully not commando), and cut-throat lawyers are often at the center of these heart-pumping tales. All of these are real occupations, and while it doesn't require the reader to stretch his or her imagination, it's still far enough into the realm of the unknown to fulfill the same fantasy role as a wizard or rocket jockey. It also means that the conflict is easy to understand. The reader doesn't have to be a rocket scientist to know why a missing nuclear warhead is a bad thing.
Another draw you'll find is an exotic location. Think of James Bond. Is he content saving the world in good old London town? No, he's jetting to every enchanting and mysterious locale on the planet. (Coincidentally, this also provides him with a bevy of beauties to tap.) Granted, the secret lair inside a hollow mountain or Q's conveniently placed and well-disguised labs probably doesn't have real-world counterparts, but it's certainly fun to think they do. I know my imagination runs amok every time I pass gated stairways and mysterious doors. You never know; there may be a super-secret ninja training room inside a donut shop. These things happen.
I realize that neither of these are monumental concepts, nor are they only found in thrillers. Sci-fi and fantasy are just as loaded with exotic locales and professions, many of which are more exciting than those found in reality. For some of us, James Bond in space is a lot cooler than James Bond in the jungle. But I have to admit that not everyone has the imagination required for sci-fi or fantasy-I have family that fall in this category-and there are times when it's nice to unplug the brain and just be entertained. This is something that thrillers are really good at.
Not every thriller has an exotic location or mind-blowing dilemma. It's not unusual to find one set in the town next door, or a major metropolis that thanks to TV and movies; we're very familiar with despite never setting foot there. When the danger is close to home, it can increase the tension. For example, in the Jack Ryan novels by Tom Clancy, one of his most nail biting conflicts wasn't when Jack was smuggling Russian submarines or fighting South American drug cartels. It was when a vengeful foe tried to kidnap his family. Whether we have been in that situation or not, it's one that we are socially aware of, scared of, and wouldn't wish on our worst enemy. When it happens to someone we care about, such as the hero of a story, we cease caring about the pot roast burning in the oven because we NEED to know how it ends.
The biggest draw for this genre, and what should be employed more in other genres, is the use of hooks and cliffhangers. If you look at how a thriller is structured, you'll see that just about every chapter ends with a hook-a burning question or perilous situation (that may or may not involve anthrax) which causes you to turn the page instead of feeding the dog, fetching the kids from soccer practice, or putting out the kitchen fire (seriously, they should put warnings on these things). Hooks are a handy way of entrancing readers. They're the fabled chemical inside KFC's chicken that makes you crave more. Can you think of a good reason not to put that in your stories (excluding kitchen fires)? I didn't think so.
So, if this storytelling tool is so tried and true, why are they not employed in other genres more often? In short, I don't know. I suspect it may be because we don't always look outside our chosen genre, but that's a topic for another day. Regardless of the reason, it does make this the perfect time to use hooks, cliffhangers, and realistic conflicts in your fiction. Thanks to technology, our readers have a lot of entertainment options at their fingertips. Not only are we competing with daily life for the reader's attention, we're also competing against every game, social network, and cat video on the internet. Using the draws of the thriller genre will put us ahead of all that. All of the writers I mentioned at the beginning are very good at doing these things and it's why their work consistently tops the charts. Yes, even Michael Jackson. His ability to thrill audiences got him crowned the King of Pop. I see no reason why we couldn't be similarly crowned.
 ***
Kim May writes sci-fi and fantasy but has been known to pen a gothic poem or two. She works at an independent bookstore and dog/house sits on the side. A native Oregonian, she lives with her geriatric cat, Spud, and spends as much of her free time as she can with family and friends. If you would like to find out what she's working on, please visit her blog at http://ninjakeyboard.blogspot.com/