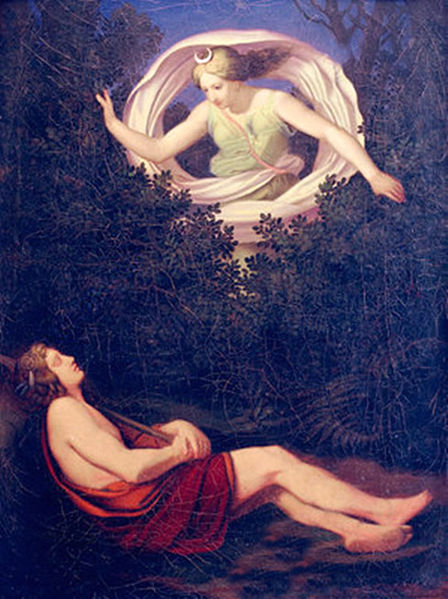 It's much like the question, "Which came first, the chicken or the egg?" We've talked about mythology a lot over the course of the month, creating mythologies within fantasy worlds, how they affect our worlds and characters, and how they have evolved over time in our own world. As I pondered on mythology in my own writing, the first word that came to me was magic. I'm going to go into my thought process a bit. Bear with me, there is a point to all of this.
In my Young Adult series, Legends of Power, which I hope to have released within the year, I started with the idea of a young man being chased by shadows. Not horrible beings sent by some nemesis or arch-villain, but beings unwittingly created by the touch of our protagonist's magic. As I searched to understand my protagonist, and what I'd made happen to him, I found a mythology to explain his powers–the legend of the Greek goddess, Selene. I played with it a bit, made her an angel instead of a goddess, and claimed the Greek legend had evolved from a much earlier event. As my story developed, so did my magic system. I searched for myths and legends from all over the world, propagating my urban fantasy world with people of various lineage, claiming their magical ancestors had instigated the most famous and/or interesting legends of their regions. It's been a lot of fun finding those legends. There are a million to pull from. I claimed the stories were based in reality then used them to create each groups' magic system, along with appropriate strengths, abilities, and limitations.
And here is the point: sometimes we can create myths, but sometimes myths can create magic. When you're looking for a magic system, maybe need ideas for what your characters can and can't do, a great place to look is the mythologies of the world in which we live. There's almost always some mystical experience involved that you can shape and change into a magic system or alter to create a magical creature. J.K. Rowling did this masterfully in Harry Potter. For my series, I used some of these mythologies to explain real-life beings with which we're familiar: shapeshifters, leprecons, merfolk, etc. Others, I made up: Kyro (shadow master), electricians, torches, etc. Take a look around you. Discover for yourself the magic in our myths.
What are some of your favorite books that utilize myths in the magic system, or in the creation of fantastical creatures? We'd love to see your comments.