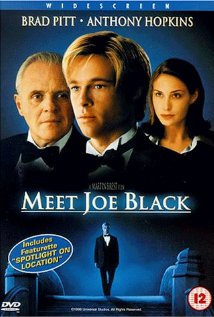 I first saw Meet Joe Black in my senior year of high school, and I hadn't expected to enjoy it. A big group of friends had gathered at someone's house on a day off to watch a movie and just hang out. I remember feeling a bit disappointed by the film selection because it had been chosen by the girls and it had the definite air of a chick flick. Just look at that cover! Plus, it was long-a VHS release split into two tapes! Who needs that?
But as the movie began to play, I found myself transfixed. (Without a doubt, a key ingredient was the amazing Thomas Newman score, which I happen to be listening to as I write this piece). Not only did I unexpectedly enjoy the movie, but I was deeply influenced by it. It taught me some big lessons which have served me well to this day.
Meet Joe Black is one of those love-it-or-hate-it kind of films. The critical consensus, according to Rotten Tomatoes is that it is "glacially slow, uneventful." Though personally I think anyone who says the movie is uneventful simply couldn't have seen the same movie I did. Maybe it has something to do with expectations. If you're expecting a fun romantic romp, you might be enraged. If you're expecting a deep and contemplative look at philosophy and mortality-or at least open to such an experience-then you're in for a treat.
Here's what Meet Joe Black does so exquisitely well: it explores characters in a way that I see usually reserved for novels. The characters are given long, extended sequences in which they get to really chew the cud. Uneventful? Not in my book. The film gives the characters time to mine the depths of who they are, what they want, their strengths, their flaws, their secret desires… and all of this in a deeply spiritual context.
This movie has a fascinating metaphysical premise. Death goes about his business, day in and day out, ferrying souls from the world of the living to whatever is on the other side (the movie graciously doesn't concern itself with this detail), before deciding to take a holiday by entering the mortal plane to learn more about life and what it means-and why souls are so reluctant to leave it. To this end, Death takes the form of a recently deceased young man (played to perfection by Brad Pitt in one of his best roles) and assumes his life. But Death's stay on the earth is temporary, for he has a job to do-collect the soul of a wealthy New York business magnate, Bill Parrish (Anthony Hopkins, also at the top of his game), who is about to celebrate his sixty-fifth birthday-before returning with his new charge to the River Styx.
That's a loaded premise, and Meet Joe Black doesn't take any shortcuts. It's gonna take some time to explore this idea to the fullest, and the film, with a running time of over three hours, goes about its juicy task with proficiency, if not efficiency. So many stories are rushing around to get from A to B, to simplify big and complicated ideas into bite-sized morsels. Meet Joe Black demonstrates that you can take the time to smell the roses by investigating every aspect of your story, from premise to setting to character, without sacrificing anything.
One of the symptoms of this-which is either praised or maligned, depending on your opinion of the film-is that although the characters have long dialogue scenes with each other, they are not always talking. This movie doesn't have much in the way of "chatter." The conversations breathe. They have a unique cadence which I haven't seen duplicated anywhere else. Sometimes the characters are silent for long stretches of time-but the communication that happens in those silence is enough to fill pages and pages. There's so much subtext. For a film, it's tremendously literate. There are scenes with dialogue that might be able to fill a single page of script, but the movie explores those beats for entire minutes. Yes, this should be uneventful on film, but instead it's strangely masterful. It's beautiful. It's moving.
In the midst of my stories, I take this cue from Meet Joe Black very seriously. Sometimes you just can't-or at least, shouldn't-rush things. Let the moments play out, let the characters dance around a little bit, let the subtext take center stage. Doing so can take storylines that seem merely perfunctory on the surface and transform them into intensely meaningful examinations of human character.
The Take Home: From time to time, in this fast-paced writing market, don't be afraid to take it slow.