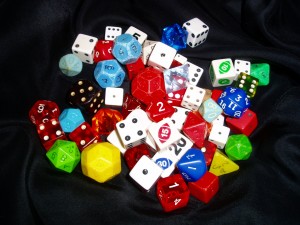 When I was a child, I considered myself lucky enough to own an original 8bit Nintendo Entertainment System. Even back then, I gravitated toward the role playing games, and deeply enjoyed the Zelda, Dragon Warrior, and Final Fantasy series. Even those games, in their primitive brilliance, were able to tell great stories.
As more advanced systems arrived, the ability to tell an amazing story improved. I was able to curse the evil brilliance of the Zelda Water Level. I was lost in the harmonic masterpiece of the Final Fantasy 6 Opera Scene. I cried as Aerith died in Final Fantasy 7. I lived many different adventures, and died many glorious deaths. My name is still immortalized in an old online MUD (text-based multiplayer game) as a warrior who helped destroy an old god and bring about a new birth to the world. All these things showed me what worked and what failed when it came to telling a fulfilling and interesting story.
That being said, being able to write a novel and working to bend the fates that are a dice roll away from destroying you may seem like completely different mediums, but they both require a lot of imagination, creativity, and a little bit of luck to succeed. And, in my case, my adventures in a game has inspired more than a few stories. There are even quite a few novels out there that the authors claim came completely from a game played with their friends.
I've asked my fellow Fictorians how a good game has influenced their writing. We'll jump from Halo to Barbie Queen to paper and dice role playing systems. Some will be a story similar to my own, others may be a cautionary tale. Sit back and enjoy the Fictorians talk about Gaming.