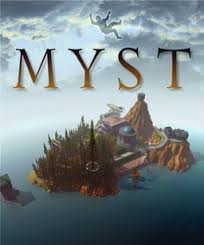 Long before Portal or Portal 2, there was MYST, played exclusively on the pc. I know Portal can be played in other formats. In fact, it's probably preferable, but we never got around to graduating our Nintendo any higher than a Wii, so when my kids and I played Portal it was like the old days, on our pc. Watching my son's fingers pounce around on the little plastic keys brought back memories. As much as I love Portal, especially the cake song at the end, I think MYST was better. It had EVERYTHING, and I think that's a bit of a writing lesson:
Mystery: No info-dumping in MYST. You start out relatively clueless, with just enough information to draw you in, so you want to know more, and you want to solve the mystery. Most of the game was spent figuring  out puzzles, but the goal  pulled you on, because you had to find out what had happened in the world and you wanted each clue in order to put the pieces together and reach the end goal.
Point: Our novels need to hook our readers, give a sense of mystery, and excite the passion for discovery  in order to pull our readers from one chapter to the next.
Intelligence: MYST wasn't some Sudoku or Word Find. The puzzles were hard and varied. It stretched my brain. For some people, that made it too much. They couldn't figure out the solutions and so they gave up. My husband and I used to play the game together in our early married years–it constituted many of our date nights–and, I admit, we cheated a couple of times. But often, the puzzles would use our different skills. I remember one where we had to match the pitches to sounds on some other part of the island we were exploring. My husband figured out the pattern related to the problem, but I identified the sounds to find the right pitch. Good fun.
Point: Challenging our readers intellectually can actually make them more invested in the story, but push it too far and we might lose readers. We need to find the balance that gives us the widest audience.
Setting: Speaking of the puzzles, the music, and the island; the setting for MYST was incredible. Up until that time, at least to my knowledge, there had been nothing that compared. You'd step into a world and every color, line, and shape told you about the new environment.  Eerie creaks and groans added to the sense of mystery. Sometimes, I could almost imagine that I smelled certain things, the details were so complete. When I stepped into the game, I stepped into another world.
Point: We need to immerse our readers into the world we create, whether it be contemporary, fantastical, or far-future. The details need to paint such a complete picture that our readers taste, see, and fully experience that sensation of having stepped into another place.
Story: There's more I could say but I don't want to make a ten-page long post, so we'll end with story. In the past, most games I played, I played to win. With MYST, it wasn't about winning, it was about completing the story, finding the conclusion, and finally understanding how it all came together.
Point: It's important that we set up our readers expectations right to begin with, so they have some idea of the type of journey they're undertaking and where it will take them, and then we need to fulfill those expectations with a satisfying conclusion.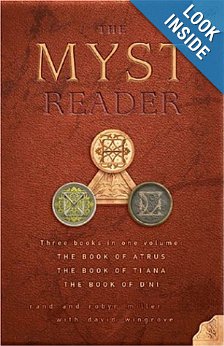 The best part: After playing a couple of versions of MYST, I discovered they'd taken the game and turned the whole thing into a series of books. I don't know if they were widely read, but I  loved them.  When my oldest son discovered the series, somewhere around 3rd grade (when the school wouldn't let him read Harry Potter) he jumped to an adult reading level within weeks, all because he fell in love with those books. From that point on he couldn't be held back. He voraciously read every fantasy book he could get his hands on. MYST not only made an awesome game, it translated well into an interesting book series. That game, had game.
Just as a side note, anybody else think it's time for some Portal books…and maybe a movie?