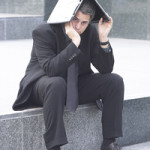 A guest post by Jace Sanders
From the age of five until about fourteen, anytime I was asked what I wanted to be when I grew up, I was quick to answer that I wanted to be a writer. In seventh grade I had this discussion with my dad who thought I ought to pursue the new industry of computers, as the writing world might have high barriers of entry. My naïve mind made the argument that every author I knew was famous and so they had to be successful. All I had to do was write.
Years later, I found myself in a steady job as a college graduate. I didn't realize that I had satisfied my internal drive to write, by creating business plans and financial articles and by reading.
One morning I awoke from a fantastic dream with an incredible plot full of twists, drama and revenge. It was a story that had to be told so I resolved to write a letter to John Grisham, deeding him irrevocable rights to my dream. After showering I realized that that would never go anywhere. As I shaved, my reflection in the mirror posed the question, "why don't you write it?"
I knew that I didn't know the first thing about proper writing so I called around and found a writing group led by a real-life published author. I will not forget the first critique by the group, where they destroyed my novel in progress. Seems I didn't understand Point of View. That critique has forever impacted my writing. At first I wanted to throw my hands in the air and abandon the childhood fantasy. But it was too late to go back; I had rekindled my desire to write. So I buckled down and mastered Point of View.
Not long after that I moved and I made the apathetic mistake of not finding a new group of writing peers. Years passed, the economy tanked, and the author in me receded to the back shelf of my mind.
Last year, a friend of mine informed me that a publisher had picked up his book. I didn't even know he wrote. The author inside of me begged to be let out. Then I learned that my neighbor was a talented writer. She asked to see some of my work so I pulled out a piece, blew off the dust, and sent it over.
The experience was very similar to when I learned about POV. This time I was introduced to the concept of Showing versus Telling. I again wanted to abandon the childhood fantasy, but determination replaced pride and I studied, read, and learned all there was about Showing versus Telling.
This neighbor has become somewhat of a mentor. When I told her that I was serious about writing and willing to put forth the effort, she gave me a list of tools. Here are her suggestions:
Watch Brandon Sanderson's creative writing class on YouTube. Watch one class each day.  They can be found here: http://www.youtube.com/user/WriteAboutDragons?feature=watch
After step 1, listen to his podcast at www.writingexcuses.com. Listen to one a day, any more than that may overwhelm your brain.
Accept that the first million words that you write is probably crap. Join the 100 Club. Write at least 100 words each day. Before you know it you're manuscript is taking shape and you're becoming a better writer.
Join a writing group. Try to find people that are better than you and are willing to give you honest feedback.
Read. Read a lot.
Read books on writing. Some great ones are:

Self Editing for Fiction Writers by Renni Brown and Dave King
Million Dollar Outlines by David Farland
Writing the Blockbuster Novel by Albert Zuckerman
Characters and Viewpoint by Orson Scott Card
How to Write Magical Words by Edmund Schubert

The best thing to do is to learn all the rules of writing, internalize them, then forget them and just write.
If you're really serious. Go to Superstars Writing Seminar. www.superstarswriting.com
I am still aspiring to be a published and successful writer and I know that I am getting closer every day. I write at least 100 words daily. I read a lot. I continue to work with a writers group and value the feedback I receive. I'm starting to just write. The best thing I've done in furthering my writing career has been attending Superstars Writing Seminar. If you are serious about being a writer, go.