As Fictorians, we are all writers, so regularly we get to celebrate the release of a story through the various types of publishing channels.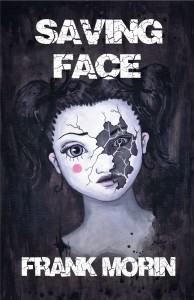 Today, I am celebrating the release of Saving Face, released as an ebook in late August.  Although not my first completed novel, Saving Face is the first published.  Since we're discussing meaningful plateaus this month, it's a perfect time to announce this big milestone.
Saving Face:  In a near future where human bodies are rented, Sarah is one of the top-ten most requested models.  But when her employer tries to force her to sell her body permanently, she has to fight to escape before becoming the ultimate orphan.
The sci-fi/fantasy novella is the prequel to an alternate history trilogy expected to be released starting in 2014, and is available for only $0.99 on both Amazon and B&N.  Also available on my web site as a free download is a related short story – Face Lift.
You can find Saving Face and the free short story, along with links to other books and movies that resonate with the story at:  http://www.frankmorin.org/books/savingface/
I hope you enjoy it.  I'd love to hear what you think of it.