A guest post by Nina Munteanu.
How many of you have been working endlessly, revising and polishing a manuscript? How many of you have several works—half finished—stuffed in a drawer, awaiting more revision?
There's a poignant scene near the end of the 2005 movie "Coach Carter" where a student finally responds to Carter's insistent question of "what is your deepest fear?". It is a quote often mistakenly attributed to Nelson Mandela but originally written by Marianne Williamson ("A Return to Love: Reflections on the Principles of A Course in Miracles"). And it speaks to the artist in all of us:
"Our deepest fear is not that we are inadequate. Our deepest fear is that we are powerful beyond measure. It is our light, not our darkness that most frightens us. We ask ourselves, Who am I to be brilliant, gorgeous, talented, fabulous? Actually, who are you not to be? You are a child of God. Your playing small does not serve the world. There is nothing enlightened about shrinking so that other people won't feel insecure around you. We are all meant to shine, as children do. We were born to make manifest the glory of God that is within us. It's not just in some of us; it's in everyone. And as we let our own light shine, we unconsciously give other people permission to do the same. As we are liberated from our own fear, our presence automatically liberates others."
Let me tell you a story… I've been writing stories since I was ten years old. I used to stay up until late at night with my sister, when our parents were snoring in bed, telling stories: fantastical stories with a cast of thousands and spanning the entire universe. When I was in my teens, I began to write a book, inspired by several dystopian movies and my own passion for saving the planet. It was called "Caged in World".  By the time I was married and had my son, I had written three entire books, none of which I'd published. I had by then sold several short stories and essays and articles to mainstream, travel and science fiction magazines. I started to become known as a reviewer and critic of movies and books. And my short stories were gaining good reputation with stellar reviews and invitations to appear in anthologies.
I began to market my first book—a medical ecological thriller—to agents and publishers. Although I got many bites for partials and even full manuscripts, none came to fruition.
Then something strange happened.
Driven by something inside me, I wrote over the space of a few months a book entitled "Collision with Paradise" based on some research I'd done on Atlantis, the bible and the Great Flood.  The book was important to me on a number of fronts: in its ecological message of cooperation and its exploration of new paradigms of existence. I wrote it fast and well and it hardly needed editing. Without thinking and without hesitation, I submitted it for publication. As quickly as I'd written it, I had an offer from a publisher. My first published book! My first reaction was elation. My second reaction was: What have I done? I was proud of my book and its story, but it also contained erotica. My first thought was: how are my family and friends going to react? What about my parents? OMG!
Fear, not of failure but of success came crashing down on me and I felt so exposed.  If I could have retracted it, I might have several times. Thankfully, I didn't.  While some friends and family did in fact shake their heads and look askance at my work (and labeled it variously), the book was very well received by mainstream critics and readers alike. It was, in fact, a hit. Faced with success, I bowed to its consequences and embraced what it brought: the good, the bad and the ugly. I was, in fact, relieved. I have many times since contemplated my actions in submitting this subversive novel that exposed me incredibly. Was it brave intuition or bold recklessness that propelled me? The point is, I'd stepped out into the light, crossed the line into another paradigm. There was no way back into the shadows. And that's good.
Ralph Keyes, author of The Courage to Write, tells us "any writing lays the writer open to judgment about the quality of his work and thought. The closer he gets to painful personal truths, the more fear mounts—not just about what he might reveal, but about what he might discover [about himself] should he venture too deeply inside. But to write well, that's exactly where we must venture." If you're emotionally or psychologically not ready for the consequences of getting published, then you will falter, procrastinate, forever fuss over your creation and convince yourself that it isn't ready. In truth it's you who aren't ready. It's you who aren't ready to shine.
Just remember that while we are born artists, it is still our choice to live as artists. Until we embrace that which is within us, we will not find our voice to give to the world. That is our gift to the world. Laurence Gartel says, "to be an artist is to take responsibility for the world's destiny. You shape it by your vision."
Brian Simons reminds us that, "The true artist is not interested in having a nice life, being comfy or fitting in, but rather sees himself as a benefactor. His goal is to make a contribution to life, and to this end there are no barriers, doors or blocks, but only wide open spaces."
Don't let your own fear subvert your success. Step forward and don't look back.
Guest Writer Bio: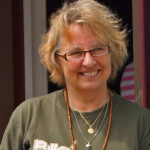 Nina Munteanu is an ecologist and internationally published novelist and short story author of science fiction and fantasy. She is currently editor of
SF Europa
, a zine dedicated to informing the European SF community.Nina's guide for writers called "The Fiction Writer: Get Published, Write Now!" by
Starfire World Syndicate
was adopted by several colleges and universities throughout North America and Europe. It was recently published by
Editura Paralela 45
in Romania. The next book in her writing guide series "The Journal Writer: Finding Your Voice" was released in spring of 2013.For more information about booking her workshops, consultations, or speaking appearances visit
www.NinaMunteanu.com
.