A guest post by Megan Grey
Writing can be a pretty solitary pursuit. Hours spent alone in front of the computer, most of which is ideally spent actually writing rather than playing Candy Crush. Just a writer and her mental sandbox in which to create fantastic new worlds and characters. Honestly, as an introvert, the idea always appealed to me. That, and the idea of working while wearing my Super Mario pajama pants.
But as it turns out, writing a novel is a monumental (and often emotionally draining) task. Between the discouragement of facing the blank page when you feel like you have absolutely nothing to say and the agony of realizing that your story is broken and you have no idea how to fix it, there can be lots of time when a writer needs help. And who better to provide support than those who understand the emotional ups and downs themselves?
Meeting and becoming friends with fellow writers has become the greatest gift I could have asked for in my career. Whether professional authors or relative newbies like myself, my writer friends have been there for me every step of the way. They are excellent at encouraging me, at listening to me vent at a particularly difficult rejection and knowing exactly what I need to hear to dust myself off and get back to the keyboard. They help me by reading and critiquing my work, helping me turn a mediocre story into one I can be proud of. They share tips on upcoming contests or open submission windows or how to shorten that overlong query letter. My writer friends have motivated me through their own successes and trials. And trust me, having friends to hang out with at conventions is way more fun than sitting at the hotel bar alone, pretending to be having a fascinating text conversation on your phone.
Look – Frodo didn't take the One Ring into Mordor all by himself, did he? Sure, the weight of your novel rest primarily on your shoulders, but writing friends can help ease that weight a bit. So how do you go about finding them? Here are three ways in which I've met most of mine:
Writing workshops/seminars/conventions – My favorite way to meet fellow writers, by far. Workshops can be fantastic ways to improve your craft and learn more about the business. And the writers that spend the time and money to come tend to be those that are dedicated to their chosen profession, which are exactly the kind of writer friends you want in your corner. My favorite of these is Superstars Writing Seminar, but many bestselling authors teach workshops, allowing you to learn the craft from one of the masters. As for conventions in the fantasy and sci-fi genre, WorldCon and World Fantasy Con are the two biggies in the industry, but smaller local conventions also provide a great way to meet your peers.
Online forums – Though conventions and writing workshops/seminars is my favorite way to meet writers, lets face it – it's not always financially feasible to attend too many of those. And your day job may actually want you to, you know, show up on occasion. Luckily, we have the wonders of social media at our fingertips. Twitter and Facebook are two popular options, but there are lots of websites with forums dedicated to writers being able to come together and discuss the business. Contribute to the discussions in the forums (remember, though, that it's not all about you – keep the self-promotion at a bare minimum), you'll find that you can form some pretty great friendships with people you've never met in person. Two of my favorite forums to hang out in are the ones on AbsoluteWrite.com and WritersoftheFuture.com (the latter, though, is primarily for fantasy and science fiction writers. I'm sure there are great sites for writers of all genres).
Writing groups –Writing groups don't necessarily work for every writer, but I've found they can be a huge help, not only for critiquing my work, but for meeting great writer friends. A little searching on the internet or checking for flyers at bookstores can often reveal that you have more writers in your local area than you might think, with groups already formed looking for new members. And don't forget the online option. I'm currently in a fantastic writing group that meets via Skype with people from all over the country—a group I found while at a convention.
Writer friends can be a great boon, but remember that the same rule applies here as it does to any relationship. To have great writer friends, you need to be a great writer friend.
Thankfully, like writing itself, that's something you can do while wearing Super Mario pajama pants.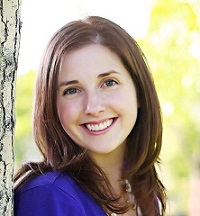 Guest Writer Bio:
Megan Grey currently lives in Utah with her husband, two kids and two yappy dogs. Her story "To Be Remembered" won the Editor's Pick Grand Prize in a fiction contest for the Animism: The God's Lake animated TV series. Her story "Missing" will be upcoming in an issue of Fireside Magazine. She has received several honorable mentions and a semi-finalist award for short stories in the Writers of the Future Contest.