A guest post by Sherry Peters.
I'd been writing science fiction and fantasy for a number of years before I attended my first local SF/F fan convention. I'd hemmed and hawed over attending it for several of those years. Often I forgot what weekend it was on. I didn't think I knew anyone who went, and as an introvert I'm usually not great at introducing myself to new people, so I wasn't keen to put myself in that awkward situation.
In 2008, an acquaintance of mine, a fellow alumnus of the Odyssey Writing Workshop, posted in the Odyssey email forum that she would be attending Keycon with some of her friends that year, and that Keycon was hosting the Aurora Awards, the top fan-voted award for science fiction and fantasy in Canada.
As usual, I'd been thinking about going to Keycon, but wasn't really sure until I saw her email. Throwing caution to the wind (she might be a closet serial killer, or I might be), I contacted her, said that she could stay at my place for free, if she wanted, and we'd go to the convention together. It was probably one of the better decisions I've made in my life, especially in my life as a writer.
You see, there's a fairly large writing community here in Winnipeg, but most of the science fiction and fantasy writers stay hidden, unknown to each other. I knew a lot of writers in Winnipeg, but none like me, until I went to Keycon. That weekend, I attended every writing/literary-oriented event on the program. I made a lot of friends, all of whom are writers, including my current best friends and writing group.
Over the years since 2008, I've made many other good connections through Keycon, with established writers and editors. I've also learned a lot about the fan community and the place of writers in fandom. I've even gone so far as to volunteer to plan the literary track of programming for the 2013 convention. (One of the best years for literary track programming ever, if I do say so myself.)
Some years, your local convention will be better than others. They are planned by a committee of volunteers which changes from year to year. Off-years should be expected. But even on those off-years, there's always something to be gained by attending, even if it's the Saturday evening dinner with your friends and fellow writers.
So, why should you plan to attend your local convention?
It's a great opportunity to meet other writers who live in the same city as you. Writing is a solitary occupation, usually. This one weekend of the year, the party is in your backyard. You get to meet with others like you. The possibilities for networking and shop-talk are endless.
Volunteer to be on a couple of panels, or to do a reading. This is a great way to get your name known among the fans in your city. Remember, these are the people who are going to read your work and create a fandom out of it. They'll be your biggest fans and be the ones to spread the good word about you to others.
If the programming isn't great, hang out in the hotel restaurant or bar. That's where the other serious writers will be. While the connections may or may not be as big as the kind you'd make at a World Fantasy Convention or WorldCon, depending on the guest of honor and attending list, they could be just as important to you. We know from World Fantasy Conventions and WorldCons that all the good stuff happens in the restaurant and bar. We're trained that way, so hang out there when you have an hour or two of down time. And while you're there, be open to sharing a table with others. You may just find yourself sharing a glass of wine and a laugh with your favorite author, dream editor, or number one fan.
The Dealer's Room. As a book lover, not much more should be said. However, at a local convention, you're not just going to find books in a Dealer's Room. There will be all kinds of other retailers there as well. It's fun to see what's going on in the fan world, and maybe pick up a few souvenirs—and books.
The Dealer's Room. Of course, this is also the place where your books will be sold. Frequent the room, sign books for the dealers (and your fans after your panels), and be friendly with the book dealers. If you're self-published and thinking of getting a table of your own, remember that not everyone is your ideal reader; you'd rather they buy your book because they're interested, not because they're guilted into it. So be friendly, have someone to help you run your table, consider tag-teaming with another author or two, and enjoy meeting new people. They'll buy your book because they like you, not your sales pitch.
One final note, as someone who has planned literary programming: often it's only as good as its panelists and attendees, so if you find that your local convention hasn't had great programming in the past, then get yourself and your fellow writer friends on the panels and in the audience. Contact the programming committee with your ideas for panels and what would help you get the most out of your weekend. And don't forget to visit the convention suites (also known as the themed party rooms)!
Most of all, enjoy your local fan community. It will soon become an annual must-attend event.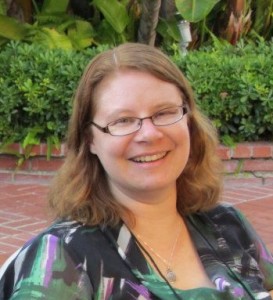 Guest Writer Bio: Sherry Peters lives in Winnipeg, where she works as a Life Coach for students at St John's College at the University of Manitoba, and spends her evenings and weekends writing. Sherry is a trained Life Coach specializing in the areas of goal setting and eliminating writer's block. She attended the Odyssey Writing Workshop and earned her M.A. in Writing Popular Fiction from Seton Hill University. She credits the year she spent in Northern Ireland as not only being one of the best years of her life, but for being a daily inspiration and motivation in her writing. For more information on Sherry, her coaching, her book Silencing Your Inner Saboteur, and when she'll be presenting her workshops, visit her website.