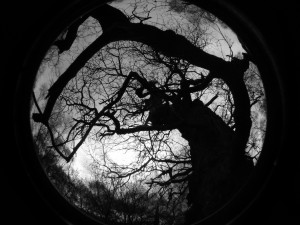 I admit up front that I don't read much Horror. It's not that I don't like the stories or the work as a whole, it's just that it makes me uncomfortable. And it's supposed to, that's its entire job! A good horror novel will take you through an emotional journey no other genre does. It elicits emotions of fear, confusion, pain, angst, and sorrow. All novels attempt to play with your emotions to some degree, but few attempt to do so in a way that is supposed to make you uncomfortable.
Despite all the books I read, I never actually thought about what, exactly, is it in horror novels that makes me avoid them. I enjoy the excitement and the anticipation that they create. The adrenaline rush makes me feel alive and excited in a life where the most fear I'll feel is while getting cut off on the freeway. The monsters are imaginative and creative. But most of all, the emotions are powerful! For other novels, I'll smile during the love scenes and sigh during the sad scenes. I'll play the good reader and act the way I'm supposed to, but usually it's only horror that can make me act as a frightened boy and not simply a silent observer.
So, if horror novels are so powerful, why do I rarely actually read them? Maybe it's because these adrenaline filled moments feel unnatural to me. They might remind my mind of past events that brought about the same physiological response. For example, getting shot at in Iraq while deployed in the military. Or, maybe something as simple as the power going out at night while I was in our unfinished basement as a kid. Neither experience was something I enjoyed.
It might also be the discomfort caused by breaking social rules. Many horror characters have to deal with mental issues that either force or just allows them to go against the social norms that have been drilled into us since childhood. You are put into the mind of someone who steals, rapes, maims, and murders without any remorse. While this is uncomfortable to read, the real shocker comes when you let yourself go to the story and you start agreeing with the actions taken. When you're in the head of that character who is walking down the hall with the knife in their hands and you find yourself agreeing that the little boy must die to ensure there are no witnesses.
To be honest, I'm not sure what the reason is. They are all good reasons, but I also think they are the reasons I am drawn to horror novels every now and then. Whenever I want to shake up the norm and remind myself that these primal feeling still rest within my soul and heart.
However, there might be one other reason why I have an uneasy relationship with horror. A reason that, as an fellow writer, you might experience as well.
When I was younger, my friends and I threw a Halloween party. Part of the fun and games was a writing contest. Bring a story and read it to the group for praise and prizes. I worked hard and wrote a story about a killer who stalks and rapes young women before sending them to their death. It was dark and the motivations were twisted and gruesome. It had a satisfying ending, if not the happiest in the world. It was a good piece of literary work, in my opinion, and it definitely got an emotional response from the party goers. I thought it was a success, but was surprised at the response afterwards.
My friends who listened to the story, friends who I've known for years, looked at me as if I was a new person. A girl I've dated asked me later how I could think up something so dark. I heard rumors that some friends thought my character in the story was a representation of who I really wanted to be inside. I began to wonder if my friends thought I really wanted to kill them. And what could I say? I was just a teenager. What if these stories that I thought up really were the thoughts of some inner demon?
Maybe I avoid horror because I'm afraid it'll show me a side of myself that I really don't want to see. Maybe I do have demons in my soul that will see the words as an invitation to let loose on the world.
I'm not sure I have a good answer, but I do know one thing: I took the fear and suspicion of my friends as the highest praise I've ever gotten. Demons or no demons, horror is a part of me. Even if I only open myself up to it sparingly.