A guest post by Travis Heermann.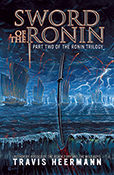 One of the aliens sounds like William Shakespeare having an argument with Sylvia Plath. Another speaks in long expositions resembling Montaigne and Thoreau. And the third speaks like Willy Loman in a Michael Bay action movie….
The fiction writers hunched over their scribing tools snort with derision and go back into their own little worlds.
Except for one writer with a curious ear. To her, these babbling aliens at first sound like they're speaking gibberish, but then she feels their groove, slides into it, and considers going along for the ride. She joins them at the bar, orders a round of Jagermeister shots, and pretty soon, she finds her mind expanding, new thoughts she might write down, new skills with cadence and alliteration she can't wait to try.
The other writers, crabbed and snarling over their opus works, snort again with derision, now toward her. She smiles at them and–after the Jagermeister hangover–returns to her work with renewed vigor.
Those aliens represent other genres of literature and creativity—poetry, creative non-fiction, and plays for stage and screen.
Let's try another metaphor.
Any yoga instructor, personal trainer, or fitness expert will tell you that you're better off building core strength and large muscle groups than overemphasizing a single muscle. Although writers generally do not grace the cover of Muscle Head and Yoga Goddess magazines and find the word svelte a curiosity rather than a self-description, we can benefit from similar advice.
There are few things more frustrating to fiction writers than having an idea in your head for a story and being unable to pull it off in a way that feels like you did justice to the idea. We often finish something and wonder if we have somehow come up short, whether it be in terms of sentence structure, diction, poetic lyricism, organization, characterization–or in other words, all the multitude of disparate but related tools that we need to be successful as artists. Maybe our tool box needs a few more things in it.
This post can be summed up thusly: studying any genre of writing can make you a better fiction writer. The more genres you master, the more options in your toolbox.
When I say genre, I don't mean urban fantasy versus historical romance. I'm talking about fiction versus poetry, creative non-fiction, plays for stage and screen, etc.
All of these different genres bring some specific skills to the fiction-writing game.
Poetry. You don't have to love it all, any more than you have to love all kinds of novels or short stories. You're free to take what you want and leave the rest. But nothing will flex the word, rhythm, and symbolism muscles like poetry. Some of it will make you groan and shake your head. Some of it you will seize upon and savor and squish around on your tongue like a mouthful of blackberries. Absorb enough of it, and it will make your prose sing out from the page without any music; it will make its own. It will show you connections and metaphors and plumb the depths of pathos like nothing else can. It's also a crash course in economy of language.
Creative Non-fiction. A catch-all term for memoir, personal essay, narrative non-fiction, and the like, creative non-fiction can open internal doors. If you're like me, you may not know exactly how you feel about something until you write about it. We can look at our own lives, current events, people who touch us. Creative non-fiction lets us examine who we are, flex that internal dialogue muscle, the one that lets us "get at something." It also comes in a variety of amusing and experimental, innovative forms, as evidenced by writers like David Sedaris and David Foster Wallace respectively. In the Writing Excuses podcast, Brandon Sanderson and Mette Ivie Harrison discuss this topic at length.
Stage and Screenplays. Both formats force writers to focus on character and dialogue in ways that fiction sometimes lets slide. In fiction, you can write a paragraph of character introspection. Scripts do not allow this, forcing you to write only what is said and what can be seen. There is also little time to dally with dialogue. Most films have a limit of 120 pages (at one minute per page), so it is critical that dialogue does double- or triple-duty—advancing action, conveying character, and revealing subtext all at the same time. Study the best dialogue, and you'll see subtext in action.
Likewise, your fiction writing skill cross-pollinates with these other genres. General baseline skills with grammar and spelling only improve with practice, no matter the genre in which you're writing. So, branch out! Fill your tool box with as many wrenches, whatsits, whirlibobs as you can. Try your hand at poetry, or a stage play, or essays. You may find your fiction taking some surprising quantum leaps.
Plus, isn't it more fun to be one of the aliens?
Guest Writer Bio: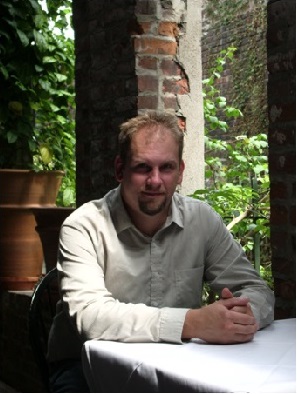 Freelance writer, novelist, award-winning screenwriter, editor, poker player, poet, biker, roustabout, Travis Heermann is a graduate of the Odyssey Writing Workshop and the author of the 
Ronin Trilogy
, 
The Wild Boys, 
and 
Rogues of the Black Fury,
 plus short fiction pieces in anthologies and magazines such as 
Weird Tales, Historical Lovecraft, 
and 
Shivers VII. 
As a freelance writer, he has produced a metric ton of role-playing game work both in print and online, including 
Legend of Five Rings, d20 System, 
and the MMORPG, EVE Online. He enjoys cycling, martial arts, torturing young minds with otherworldly ideas, and zombies. He has three long-cherished dreams: a produced screenplay, a NYT best-seller, and a seat in the World Series of Poker.For interviews about the Writing Life, check out his Author Interview Series at the Ronin Writer: 
http://travisheermann.com/blog/